While the GL-AR111AD and GL-AR111AN bundled with the GlacialPower LED Driver, users can expect higher reliability and quality, as well as safety and environmental-friendliness, in addition to longer lifetime without compatibility issues, from the GL-AR111 LED bulbs.
May 11, 2011, Taipei, Taiwan - GlacialLight, a sub-division of the experienced technology manufacturer GlacialTech Inc., is pleased to announce that their latest, innovative GlacialPower LED driver is officially bundled in the AR111 Vega Series - models GL-AR111AD and GL-AR111AN. With the bundled packages, users can expect higher reliability and quality, as well as safety and environmental-friendliness, in addition to longer lifetime without compatibility issues, from the GL-AR111 LED bulbs.

The GlacialLight Vega AR111 Series is designed for indoor use, as a directly replacement of any halogen AR111 bulbs, which take an 12V AC/DC power source, use less than 12 watts of power and emit over four hundred lumens of "Warm White" or "Cool White" light. Both dimmable and non-dimmable bulbs are available. Now bundled with the unique GlacialPower LED driver GP-LS10P-36, the GL-AR111AD and GL-AR111AN models offer significantly lower levels of heat-generation and benefits of power and money savings.
Thinking of the environment, GlacialLight designed the AR111 Vega Series bulbs to contain no hazardous chemicals, such as mercury, or emit no harmful UV or IR rays, making them more eco-friendly than traditional incandescent lighting fixtures. With a power conversion efficiency of greater than 80%, GlacialLight is extremely excited to give consumers the LED Vega Series, bundled with GlacialPower' s very own LED driver - an economically and environmentally-friendly line of lighting products.
The GlacialLight AR111 Vega Series also has AR111 available that is not bundled with the GlacialPower LED driver but has a built-in internal driver.
Excellent LED lighting products you can trust
Design of LED lighting products is based on three core technologies including electrical design (LED drivers), mechanical design (cooling devices), and optical design (lamp holders), respectively performed by GlacialPower, GlacialTech, and GlacialLight in the GlacialTech family. With the three core technologies in hand, GlacialTech has integrated all the resources required for design and manufacturing the excellent LED lighting products that you can trust.
Advantages and benefits of LED lighting compared to traditional lighting
*Directional lighting: ideal for flashlights/torches and spotlights
*No warm-up time in cold environments: LEDs don't require warm-up time like conventional CFLs
*No harmful radiation and no hazardous metals: LEDs don't emit harmful radiation such as Ultraviolet or Infrared emitting halogen lamps and don't contain hazardous metals such as mercury contained in mercury lamps
*Extremely long lifetimes free users from frequent bulb replacement
*Extremely small carbon footprints: an environmentally-friendly technology
Detail product information and photos for GL AR111 Vega Series LED bulbs are available on: http://www.glaciallight.com/products/AR111.htm
About GlacialLight
GlacialTech Inc., is a diversified provider of cooling, power supply, and PC enclosure solutions for consumer and industrial applications. Having established strong relationships with LED semiconductor Co.'s, thermal, SMPS and mechanism technology leaders worldwide, GlacialTech leverages world-class engineering, efficient manufacturing and highest-quality materials to provide high brightness, low power LED lighting solutions for indoor, outdoor and other customized applications under the GlacialLight brand. Please visit the company homepage at www.GlacialLight.com.
Featured Product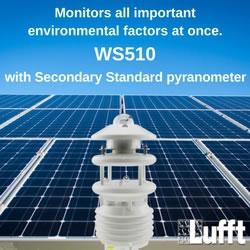 Professional weather sensors form the heart of large solar plants supporting their operation and performance. Lufft was the first manufacturer to combine several sensors in one housing, bringing the largest multiparameter weather sensor family with 19 members into being. Many of them are well-suited for solar site assessment and continuous monitoring. The most commonly used one is the WS600 delivering data on temperature, air pressure, wind, relative humidity and precipitation. Through its open protocol, it can easily be attached to radiation sensors e.g. from Kipp&Zonen. Other models have an integrated Silicon, Second Class or Secondary Standard radiation sensor.