Vergnet, a world leader in the mid-size wind turbine market, is pleased to announce the launch of its US Subsidiary, Vergnet Americas. With more than 700 wind turbines on six continents, we specialize in distributed generation or "community wind", enabling our customers to harness wind energy.
Vergnet is a global organization with a long-standing reputation for proven, reliable technology, high-quality products, and impeccable customer service from inception through installation. We offer the highest performing turbines available in the mid-scale product range. Our philosophy is to partner with our customers and local stakeholders to ensure ease of installation now, and reliable, no-hassle maintenance later. We value our customer relationships, and we are dedicated to navigating you through the entire process. We are here for you now, and you can trust that our company and products will still be working for you years from now. Our inventory is now available for shipment and installation.

Contact Jason Greenspan, Sales/Business Development Manager, for information and details. 401-339-1964 j.greenspan@vergnet.fr
Featured Product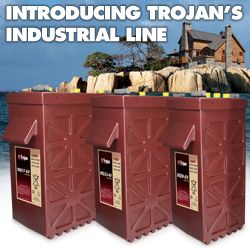 Trojan's deep-cycle batteries provide rugged durability, outstanding performance and long life for use in all types of solar energy installations. With over 90 years of experience, Trojan delivers the world's most reliable and trusted batteries in flooded, AGM, Gel, and Lithium types. These batteries enable solar equipment systems to operate at a peak level of performance in the harshest conditions or the most challenging of locations and are manufactured and tested to IEC standards.