Free Breeze Energy recently received the "go ahead" to market new V47 & V39 blades in sets of 3!
Free
Breeze Energy is the marketing arm of OEM, RRB Energy, India (formerly VESTAS RRB). RRB manufactures the very popular PS600 (formerly Vestas V47 PS600) with an optional 39M blade diameter. Free Breeze and RRB realise that there is a definite, need driven market for V47 and V39 replacement blades and therefore decided to offer these blades separately in sets of 3 commencing May 1, 2011. These OEM blades are manufactured to the same exacting standards on the original Vestas blade machines installed there in 2001. Call or write for a quote, 519-885-4311 - info@freebreeze.com.
Featured Product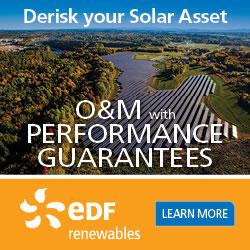 EDF Renewables offers the same innovative solutions that maximize the performance of our own 5.2 GW of installed projects. Because we're not an equipment manufacturer, our recommendations are transparent and data-driven. We cover the entire project lifecycle: from pre-commissioning support, through warranty and post warranty operation, to late stage and decommissioning.