Europe's leading solar company Gehrlicher share their perspective Cost reduction in the PV industry has tended to focus on cell technology. But what of materials use, installation and maintenance expense? We look at some alternative ways to improve efficiency across the PV supply chain
Do not expect a handshake when you meet the best module installer in the world. With six suction pads instead of hands, the Gehrlicher Solar assembly robot is not particularly touchy-feely. But who cares when it can install 150 modules a day?

Munich-based Gehrlicher developed the 3 km/h, track-wheeled robot as part of a factory-to-field transport and assembly system that bagged a PV Intersolar award last year. Another of its components is a special container that allows modules to be packed tightly yet securely for transport, minimising logistics costs and breakages. And the system is not the only way that Gehrlicher is looking to improve efficiency across the PV supply chain.
"We are focused on everything that is not a module," says Gehrlicher's international sales manager, Tom Agostino. "We preassemble cabling so it is plug-and-play. It is going in 50% faster and the guy is not complaining about blisters on his fingers. "Any time you shave a day off installation--that is a big saving on costs. A lot of this does not show up on a bill of labour, but it is significant."
And it is becoming more so. While cost reduction in the PV industry has tended to centre on the price of cell technologies, Gehrlicher's emphasis on cutting engineering, procurement and construction contractor (EPC) costs is increasingly relevant to developers and operators. Optimising costs Recent drops in government support in markets such as Spain have left PV companies thinking more about saving cash than a few years ago when their main preoccupation was on building solar plants quickly to take advantage of incentives. See Industry Insight: Subsidies: PV's Fair Weather Friend.
"With the tariffs in Southern Europe it did not make sense to optimise costs," notes Paolo Pietrogrande, president of Netplan Management Consulting and a former 9REN chief executive. "Where tariffs are more competitive, such as in Germany, there is better efficiency."
For instance, he says: "In most of the projects in Italy or Spain there is very little attention given to collecting local data. For example, is it better to always face south? In the US not every plant is facing south, but in the optimal direction. This does not cost more. It is local knowledge."
Part of the problem, he says, is that many investors and some developers still lack enough experience to be able to recognise areas which could benefit from optimisation, such as tweaking return-on-investment models to account for winter and summer sun conditions.
Red tape can also help drive up PV administration costs in territories such as Italy, says Stefan de Haan, senior analyst for PV at IHS iSuppli.
But even the US market may have some way to go in order to maximise its efficiency, he believes. "You see a definite difference in prices between Germany and the US, and that is just down to efficiencies in EPCs. We have seen costs of twice as much in the US as in Germany."
EPC efficiencies
The price differential indicates that further EPC efficiencies could lead to significant savings for PV developers in certain markets. "I think 50% is reasonable," says de Haan. However, he adds: "Germany is the most mature market and I don't think administration costs can drop below that level. Germany is the lower limit on overhead costs. Further price reductions would have to come from equipment."
That is where companies like Gehrlicher come in. "We are trying to optimise processes to get higher installation speed and lower labour costs," says the company's head of research and development, Dr Anton Näbauer. "In former times building was about having all the steel and aluminium you wanted. Now it is driven by computer-aided design and experiments in wind tunnels, to optimise the structures to deal with real loads and not just any loads."
Agostino adds: "95% of solutions are framed. We work with thin film because it is frameless and deploys a full-size solution. Industry influence "But crystal and silicon is still the best in terms of module efficiency and manufacturing costs so we are focusing our industry influence and our research on whether we can get rid of the frames and go to glass on glass."
Meanwhile Gehrlicher is also looking into replacing roofing materials with PV modules, evaluating the market potential for a second assembly robot and completing a series of upgrades to its existing machine, among other projects. Gehrlicher executives are perhaps naturally coy about the exact level of savings that such innovations may be able to bring to the PV sector.
But Dr Näbauer quotes a rule of thumb for economies of scale that says when a market expands by a factor of 10 then costs go down by 20%. "We will in the future make at least two factor-of-10 leaps," he predicts. So whichever way you look at it, there is still plenty of room for savings.
At the PV Balance of Systems Conference (28-29 June), Dr Naebauer will be sharing more valauble BoS strategies alonsgide 20+ of Europe's leading experts, including;
Armin Fischer, PV Project Fulfilment, BoSch Solar Energy
Mariano Berges, Fotowatio Renewable Ventures
Dieter Ridel,Team Leader Technology & Innovation, Phoenix Solar
Juan M. Fernández, AM PV Plant Performance, BP Solar
Javier Abans Iglesias, Construction Manager, 9REN
Joern Jürgens, Sales Components Managing Director, SunPower
For more information on the event please contact:
Heidi Hafes
Research & Events Director
PV Insider
heidi@pv-insider.com
+ 44 207 375 7206
http://www.pv-insider.com/balanceofsystems/
Featured Product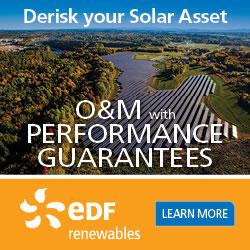 EDF Renewables offers the same innovative solutions that maximize the performance of our own 5.2 GW of installed projects. Because we're not an equipment manufacturer, our recommendations are transparent and data-driven. We cover the entire project lifecycle: from pre-commissioning support, through warranty and post warranty operation, to late stage and decommissioning.