-- Second Largest Retailer and Fastest Growing Residential Solar Company Set Stage for Mass Adoption of Residential Solar Power --
MOORESVILLE, N.C. and OAKLAND, Calif.—May 16, 2011—Lowe's, the world's second largest home improvement retailer, and Sungevity, the nation's fastest growing residential solar company today announced a new agreement that will offer homeowners the easiest and most affordable solar solutions in the marketplace, marking a significant step in the mainstream adoption of residential solar. Through the agreement, Lowe's will provide consumers with

Sungevity's quick, easy and proprietary iQuote, a process that utilizes satellite images and aerial photography to calculate a same-day, firm installation estimate, eliminating the need for a home visit. As part of the interactive, in-store experience, consumers will be able to view a rendering of the proposed installation and get a firm understanding of the cost-savings related to Sungevity's innovative solar lease program. Customers typically experience an immediate savings on their electricity bills through Sungevity's solar lease, which includes monitoring, maintenance, repairs, insurance, and a money-back performance guarantee. Additionally, as part of the agreement, Lowe's has taken an equity position in Sungevity.
"I am thrilled about the potential of reaching Lowe's 15 million weekly customers at their more than 1,750 retail locations, with Sungevity's services," said Andrew Birch, chief executive officer, Sungevity. "This partnership marks a major acceleration point in our mission to make solar power easily accessible and affordable to homeowners nationwide."
"Lowe's has always delivered innovative energy solutions for our customers and we are seeing an increased demand for solar solutions," explained Patti Price, senior vice-president, merchandising, Lowe's. "Lowe's new partnership with Sungevity responds to customer demand by providing a convenient and affordable process for going solar."
The partnership will commence with interactive Sungevity branded displays in select Lowe's stores, beginning Summer 2011, and continue to roll-out at all Lowe's stores in states where Sungevity provides services. Sungevity currently operates in eight states, including Arizona, California, Colorado, Delaware, Maryland, Massachusetts, New Jersey and New York.
About Lowe's
With fiscal year 2010 sales of $48.8 billion, Lowe's Companies, Inc. is a FORTUNE® 50 company that serves approximately 15 million customers a week at more than 1,750 home improvement stores in the United States, Canada and Mexico. The U.S. Environmental Protection Agency (EPA) has named Lowe's winner of the ENERGY STAR® Sustained Excellence Award in Retail for the second consecutive year, the ninth ENERGY STAR honor for the company's industry-leading commitment to energy efficiency. Founded in 1946 and based in Mooresville, N.C., Lowe's is the second-largest home improvement retailer in the world. For more information, visit Lowes.com.
About Sungevity
Sungevity is America's fastest-growing residential solar company. The company's Remote Solar Design software, iQuote process and Solar Lease program make it easier and more affordable than ever for homeowners to benefit from solar power. Leveraging web-based solar analytics and satellite imagery, Sungevity can provide homeowners with a firm, same day quote without a home visit and provide savings on their electricity bills. This affordability and ease of use, combined with Sungevity's solar social network strategy, is all part of Sungevity's mission to accelerate solar into the mainstream. For more information, visit Sungevity.com.
Follow Sungevity Online:
Blog: http://blog.sungevity.com
Twitter: http://twitter.com/sungevity
Facebook: http://www.facebook.com/sungevity
LinkedIn: http://www.linkedin.com/company/sungevity
Youtube: http://www.youtube.com/user/Sungevity
Featured Product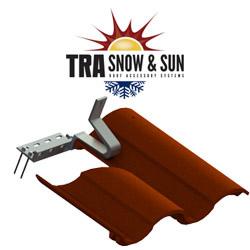 You haven't installed a tile mount that is easier to install than the Solar Tile Mount manufactured by TRA Snow and Sun. Solar Tile Mount is used on all tile roof profiles: flat, mid, and high. It is made in the USA of aluminum alloy for strength and excellent corrosion resistance. Solar Tile Mount is built to allow more ease in installation with more rise from the tile surface to the rail for better air flow below panels. The adjustable base is longer than most allowing attachment 6" to the left or right to have the bracket in the base of the pan of the tile and still fasten to the rafter. Solar Tile Mount is adjustable for counter batten systems from ¾" to 3". The horizontal rail is directly above base fasteners giving greater uplift resistance than any other system. For superior waterproofing apply TRA Snow and Sun's butyl backed VersaFlash aluminum flashing. No tile flashing is needed on top of the tile for greater labor and material cost savings.