MXenergy increases environmental focus through expanded website
Stamford, CT - May 17, 2011 - These days when someone asks if you know how large your footprint is, they may not necessarily be asking about your shoe size. Determining your carbon "footprint" and just how to reduce it is becoming a higher priority by many people wanting to decrease their impact on the environment. Still, many terms such as "carbon offset", "carbon neutral", and "carbon footprint" are still confusing to consumers.

MXenergy, a leading independent energy provider and strong sustainability proponent, is hoping to clear up some of that consumer confusion with a new expanded Carbon Offset Resource section of its company website, www.mxenergy.com.
"For several years now we, as a company, have been carbon neutral and offered carbon offset purchases to our customers," said Marjorie Kass, MXenergy Managing Director. "What we realized though is that the entire issue of offsets and neutrality is still unclear in the minds of some customers. Hopefully this expanded content will clearly explain the issue and terms and give them concrete ways to make changes in their own lives."
The expanded site includes definitions of key terms, tangible ways to reduce your "footprint" while at home, on the road, or shopping, as well as information on how to purchase carbon credits. The site also includes statistics designed to illustrate how small individual changes can have a significant environmental impact.
MXenergy has long been on the forefront of the sustainability issue, promoting environmental conservation, renewable energy and energy efficiency. In 2010, the company launched MXenergyTV (MXTV), an On Demand cable channel designed to educate the public on the latest developments in "green" technology and living.
Consumers can view the expanded site content at http://www.mxenergy.com/carbon-offsets.html. Additional sustainability information is also available at www.mxearth.com.
About MXenergy
MXenergy is one of the fastest growing retail natural gas and electricity suppliers in North America, serving approximately 500,000 customers in 41 utility territories in the United States and Canada. For over 11 years, the company has provided millions of customers with a choice in how they purchase energy to run their homes and businesses. Founded in 1999 to provide natural gas and electricity to consumers in deregulated energy markets, MXenergy helps residential customers and small business owners control their energy bills by providing both fixed and variable rate plans MXenergy is committed to best practices in environmental conservation, supporting local communities through various outreach programs and is a member of the Chicago Climate Exchange. For more information about MXenergy please visit www.mxenergy.com.
Featured Product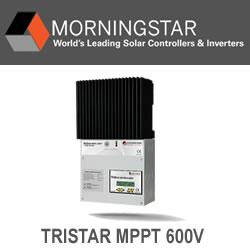 Morningstar's TriStar MPPT 600V charge controller leverages Morningstar's innovative TrakStar™ MPPT technology and our 20+ years of power electronics engineering excellence, to enable the widest input operating voltage range available from a solar array, wind turbine or hydro input. This controller's standard and DB versions are for off-grid applications, and the TR versions were developed to enable retrofitting grid-tied systems with battery backup.