Drilling Completed on Niagara Tunnel Project
TORONTO - May 16, 2011 - Big Becky's work is over, but the drive for a future of clean, reliable energy continues.

The drill used to dig a10-kilometre tunnel under Niagara Falls, named Big Becky, has completed its work. When work is finished on the Niagara Tunnel Project in 2013, it will supply enough clean, renewable electricity to power 160,000 Ontario homes -- enough to power the entire Niagara peninsula.
The Niagara Tunnel Project is the largest renewable energy project of its type under construction anywhere in the world. The project has created more than 400 full-time jobs and brought approximately $1 billion in economic benefits to the region.
The underground tunnel will allow additional water to flow to the Sir Adam Beck Generating Station by 500 cubic metres per second -- this will increase Ontario's supply of clean, reliable power.
Ontario's Long-Term Energy Plan is helping to keep costs down for families today, while building a clean, modern and reliable electricity system for tomorrow. The province is replacing dirty-coal fired plants with renewable energy projects from water, wind, solar and bio-energy. It has already helped create 20,000 jobs across the province.
"This major milestone brings us one step closer to increasing Ontario's supply of clean, renewable power. Our energy plan is creating thousands of good jobs, cleaning the air we breathe and keeping the lights on in our homes and businesses," said Dalton McGuinty, Premier of Ontario.
"This is an important achievement as we continue to transform and modernize Ontario's electricity system. Our investments are driving the economy forward and ensuring we have an energy system that Ontario families can rely on for generations," said Brad Duguid, Minister of Energy.
"Niagara Falls is not only the Honeymoon Capital of Canada, but a hub for clean energy. This project has attracted $1 billion in new investment and created hundreds of new jobs in our community," said Kim Craitor, MPP Niagara Falls.
"We are tapping into Ontario's original electricity source -- Niagara Falls -- to create a better future for our economy and Ontario families," said Jim Bradley, MPP St. Catharines.
Quick Facts:
• The new Ontario Clean Energy Benefit is helping Ontario families and small businesses by taking 10 per cent off of all electricity bills for the next five years.
• Time-of-Use off-peak periods have shifted from 9 p.m. to 7 p.m. on weekdays, providing families with an extra 10 hours of electricity every week at the lowest rate.
• Ontario is on track to have 60,000 clean-energy jobs by the end of 2012.
• More hydroelectric power will be added to Ontario's electricity system in the next eight years than over the previous 40 years.
Featured Product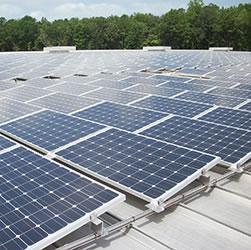 The Power Rail™ Commercial Mounting System is designed with the professional PV solar installer in mind. Both the XD/UD and LD/MD rails feature single tool assembly with the revolutionary patented RAD™ Lock-in-Place bolt for fast and secure module clamping. The high strength marine-grade aluminum rails include an integral wiring channel for securing cables and providing a professional finish.