Horb am Neckar, Germany, 18 May 2011. In Solar Inverters Pty Ltd., DEGERenergie has found a new distribution partner for Australia. Together, the partner companies are currently establishing a showcase project in New South Wales.
With immediate effect, the Australian company Solar Inverters Pty Ltd., a renowned wholesaler of photovoltaic components and primary distributor of "Power One" inverters in Australia, is an authorized DEGERenergie distributor. Solar Inverters' current objective is to establish a new business field with DEGERenergie's solar tracking systems. As the first step towards this objective, the partner companies cooperate on a showcase project in Urunga, New South Wales, where DEGERenergie's systems are presented live. For the "showcase", six type 5000HD DEGERtraker systems are being installed. For this project, Solar Inverters is also DEGERenergie's installation partner and acts as the operator of the small solar park. For comparison purposes, a rigid system is installed in close proximity.

According to Christopher Seng, area sales manager of DEGERenergie and responsible for sales in Australia, the current feed-in policies of the provincial government offer targeted subsidies for smaller projects with a yield of between 10 and 30 kWp. This way, individual projects equipped with two to six 5000HD DEGERtraker systems are especially economically attractive. So far, DEGERenergie has installed about 40 solar tracking systems of this type in Australia.
Peter Bulanyi, CEO of Solar Inverters: "After careful consideration of the offer in comparison with offers from competitors worldwide, we are convinced that the tracking systems of DEGERenergie are at the cutting edge of technological development. With the unique MLD technology, private households, just like solar park operators, can improve their energy yield by up to 45 percent compared to rigid solar modules. According to our research, no other manufacturer can match that - not to mention the level of reliability and technical superiority of DEGERenergie systems."
DEGERenergie was founded in 1999 by Artur Deger and today is the world market leader in solar tracking systems. Worldwide, more than 35,000 DEGERenergie systems are installed in over 40 countries. The company is represented in Spain, Greece and North America with its own subsidiaries and cooperates with local distribution and service partners in many countries across the world. The patented DEGERenergie Maximum Light Detection (MLD) technology makes it possible to improve the energy yield of solar power plants by up to 45 percent compared to rigid systems.
For more information: www.DEGERenergie.com.
DEGERenergie at the Intersolar 2011, Munich
hall C4, stand 120
Note for editorial staff:
You can download printable image material at the DEGERenergie website - News - Press Releases at the end of the text. Of course, you can also obtain printable image material from: Herbert Grab, Phone: +49 07127-5707-10, E-mail: herbert.grab@digitmedia-online.de.
About DEGERenergie (www.DEGERenergie.com):
DEGERenergie is the leading manufacturer with the world's largest product range of single and dual axis solar tracking systems. The company's market position is based on the unique patented Maximum Light Detection (MLD) technology developed by Artur Deger, which makes it possible to maximize the yield of solar power plants with an "intelligent" control. With the DEGERconecter, the solar modules are thus always aligned according to the brightest position in the sky with the highest energy yield. This way, the overall energy yield of solar power plants with MLD tracking is up to 45 percent higher than that of rigid systems and this difference is even more pronounced for peaks. With more than 35,000 systems installed in more than 40 countries, DEGERenergie is the global technological market leader. The company offers its customers all product related solutions - from the development and planning, production and sales to maintenance and service.
In its headquarters in Horb (Germany), its subsidiaries and supplier companies, DEGERenergie is currently employing a staff of more than 400. The company was founded in 1999 and in 2001 won the Inventor Award of the German state of Baden-Württemberg for the MLD control module DEGERconecter. In 2005, DEGERenergie opened its first subsidiary in Spain, followed by subsidiaries in the USA and Greece in 2009. Additional business locations are planned for 2011. The company's production sites are located in Germany, Canada and the USA. Managing director is Artur Deger.
You can't always rely on the weather. But you can rely on an intelligent control system from DEGERenergie.
Customer contact:
DEGERenergie GmbH
Industriestraße 70
72160 Horb, Germany
Phone: +49 (0) 7451-539 14-0
Fax: +49 (0) 7451-539 14-10
E-mail: sales@DEGERenergie.com
Press contact:
Herbert Grab
digit media
Schulberg 5
72124 Pliezhausen, Germany
Phone: +49 (0) 7127-5707-10
E-mail: herbert.grab@digitmedia-online.de
Featured Product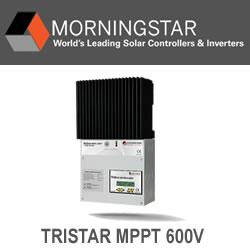 Morningstar's TriStar MPPT 600V charge controller leverages Morningstar's innovative TrakStar™ MPPT technology and our 20+ years of power electronics engineering excellence, to enable the widest input operating voltage range available from a solar array, wind turbine or hydro input. This controller's standard and DB versions are for off-grid applications, and the TR versions were developed to enable retrofitting grid-tied systems with battery backup.