Clean Tech Intellectual Property: Eco-Marks, Green Patents and Green Innovation is the first comprehensive review of the role intellectual property is playing in the clean tech industry and the fight to curb global warming
SAN DIEGO (May 18, 2011) - Eric L. Lane, an intellectual property lawyer and registered U.S. patent attorney at Luce, Forward, Hamilton & Scripps LLP, announces the publication of his book, Clean Tech Intellectual Property: Eco-Marks, Green Patents, and Green Innovation. Intended for clean tech business owners, legal practitioners, academics, policy makers, and other industry leaders, Lane's book is an unprecedented review of the interplay between clean technologies and intellectual property law.

Through discussion of industry trends and legal developments, Clean Tech Intellectual Property demonstrates how intellectual property is influencing the growth of clean technology and how green business models are shaping intellectual property practice. It also explains how clean technology innovators can leverage green patents to strategically create and expand their businesses, and includes illustrative case studies and valuable insights relating to prosecuting green patent applications, building green patent portfolios, and licensing green technologies.
"Technology is the answer to global warming, and I strongly believe that intellectual property is crucial to the development and deployment of clean technologies," says Lane. "As a green IP blogger and IP counsel to clean tech companies, I was able to bring my perspective as a commentator as well as my practical experience to writing this book. My hope is that people on the front lines of green innovation will find Clean Tech Intellectual Property to be a valuable resource and a compelling case for the role of IP in combating climate change."
The book also analyzes green branding issues from both the brand owner perspective and a consumer protection standpoint and tackles the controversial subject of false and misleading green advertising claims known as "greenwashing." Critical examinations of green patent policies and the international debate over the role of patents in the diffusion of clean technologies place intellectual property rights in the moral context of the global battle to mitigate climate change.
"Followers of Eric Lane's Green Patent Blog know he can pack a lot of information into his articles with journalistic aplomb. In this book, readers will be equally impressed by his analytic gifts and laser-like focus," says Eric Raciti, Partner and Chair of the Alternative Energy Practice at Finnegan, Henderson, Farabow, Garrett & Dunner, LLP. "Lane goes beyond the kind of nuts-and-bolts 'how-to' or case summaries that too often characterize IP-legal writing and delivers a thematically integrated treatise on Clean Tech IP."
Lane is a founding member of Luce Forward's nationally-renowned Climate Change, Renewable Energy & Sustainable Technology (CREST) group and the founder and author of Green Patent Blog - www.greenpatentblog.com - an award-winning website dedicated to discussion and analysis of intellectual property issues in clean technology.
Clean Tech Intellectual Property: Eco-Marks, Green Patents, and Green Innovation, published by Oxford University Press, is available for purchase through Oxford's web site at www.oup.com, Amazon.com and select retailers. To find more information about Lane, his book, or to schedule him for a media interview or speaking engagement, please visit www.luce.com/ericlane or www.greenpatentblog.com.
About Luce Forward
Founded in 1873, Luce, Forward, Hamilton & Scripps LLP is a full-service California law firm with offices in San Diego, San Francisco, Los Angeles, Carmel Valley/Del Mar, Orange County, and Rancho Santa Fe. For more information, visit www.luce.com.
About Oxford University Press
Oxford University Press, Inc. (OUP USA) is linked to Oxford University Press in Oxford, England (OUP UK), which is a department of Oxford University and is the oldest and largest continuously operating university press in the world. Today OUP USA is Oxford University's second major publishing center after OUP UK, producing annually nearly 500 titles. To read more about our diverse publishing programs, visit Core Businesses.
Featured Product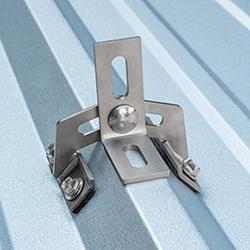 QuickBOLT Low Profile QuickBOLT with Microflashing™ is the industry's affordable, UL Certified Asphalt Shingle mounting system. The Microflashing™ is compressed by the collar on the bolt to create a water-tight seal. With an installation time of less than one minute, the Low Profile QuickBOLT allows installers to complete more jobs.