PPC adds energy business leader to supervisory board as international drive continues.
Mannheim, 18, May, 2011 +++ Power Plus Communications AG (PPC), the leading provider of Broadband Powerline Communication (BPL) systems for smart grids, has appointed Dr Manfred Krüper as the new chairman of the supervisory board.

Dr Krüper joins existing board members, Bruno Derungs and Dr. Torsten J. Gerpott, as the company continues to expand its international presence, and will be responsible for liaising with heads of departments and overseeing operations within the company. He will also be looking to build on his extensive relationships with key industry players to further the success of PPC in smart grid developments worldwide.
An experienced chairman, Dr Krüper is currently leading boards at SAG and Capital Stage AG, and brings a wealth of knowledge to PPC following over 10 years at E.ON AG, where he held a number of managerial roles, including human resources, infrastructure, organisation and procurement, as well as overseeing operations at E.ON North America. He graduated from the Universities of Münster and Cologne, and received his PhD in 1971. Later in his career he joined VEBA and VIAG AG and held various senior positions until their merger to form E.ON in 2000.
"Dr Krüper is a well known and respected figure in the utilities industry," said Eugen Mayer, Chief Operating Officer at PPC. "He brings a wealth of experience in energy and technology that is invaluable as we look to move the company forward and stimulate growth. As smart grid developments gather pace, we are confident that his leadership and industry standing will ensure we continue at the forefront of smart grid innovation."
The appointment of Dr Krüper comes at an exciting time for PPC. With more countries looking to refine their plans for smart grids and implement the necessary communications infrastructure, PPC has smart grid projects running across Germany, UK and the Middle East and is actively developing its UK pipeline.
Based on open standards and communicating via the existing power grid, PPC's Broadband Powerline technology offers utilities a powerful and economic solution for automatic meter reading (AMR), smart metering, and smart grids. BPL enables the transfer of up-to-the-minute consumption data from smart meters to the energy provider via a gateway in the building, with data encrypted and transmitted in real-time using standard Internet Protocols. As a BPL pioneer, PPC has outstanding sector experience and expertise, and has already connected more than 300,000 households in numerous smart grid and smart metering projects run in conjunction with renowned European utilities.
Featured Product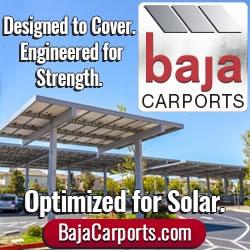 Baja Carports offers an extensive solar support system product line customized to customers' site specifications by in-house engineers, meeting their parking lot coverage, plus optimal PV production needs. Baja's Full Cantilever Tee is often paired with its Semi and Full Cantilever carports to meet live/loads up to 60psf and wind speeds to 160mph. All Baja products are pre-fabricated, bolted connections, pre-galvanized structural steel for fast on-site installation and project aesthetic requirements."