USA Xtreme Renewable Energy where every little bit of green helps. We're here to enable everybody who has an interest in going green have an opportunity to find out what they too can do. From viewing Tips and Ideas on what people can do in and around their homes to Photovoltaic components and pac
FOR IMMEDIATE RELEASE

May 19, 2011
Contact: RSussman82@gmail.com
ROSCOM INDUSTRIES LAUNCHES USA XTREME RENEWABLE ENERGY
This is the second online store venture for this Connecticut based company now offering green products for the home and business for less
HARTFORD, CT - Roscom Industries, Inc. announced the launch of its second online store venture, USA Xtreme Renewable Energy (USA Xtreme RE). USA Xtreme RE offers a variety of products and services to assist the consumer in reducing their carbon footprint.
The online store serves as a community forum, educational resource and wholesaler of "green" products ranging from entry-level state-of-the-art solar photovoltaic, solar hot water and many other eco-friendly ways to generate self-sufficient electricity.
USA Xtreme RE was developed by David Rosner and Corey Sussman, both Connecticut residents and natives. "This store is about providing a cost-effective and quality methods for implementing green technology within your home or business," says Rosner, founder and CEO of Roscom Industries. "We want to be a resource for the consumer, educating them about the green technologies so that they can make an informed decision when it comes to reducing their carbon footprint."
The website will eliminate the middleman markup and provide direct from manufacturer costs that can easily save the consumer an additional 10-55%. USA Xtreme RE also provides a "Live Chat" area where the consumer can make inquires to top-notch solar engineer and installation professionals who rotate on stand-by.
"We are thrilled to enter the world of renewable energy and to reach all who are interested in becoming a little more green," said Sussman, VP of Information Technology of Roscom Industries.
USA Xtreme RE provides a free service of informational databases for registered North American Board of Certified Energy Practitioners (NABCEP) around the country and a solar estimator for calculating your location's solar efficiencies and estimated cost and payback analysis. Also, available is a guide to State and Federal tax incentives.
This is the second in a planned series of sites launched by Roscom Industries. The first, USAXtremeRC.com is a remote control hobby enthusiast business that provides various land, air and water crafts at very competitive price points. USA Xtreme RC was launched in November 2010.
USA Xtreme RE can be found at, www.usaxtremere.com. They can be followed on both Facebook and Twitter.
ABOUT ROSCOM INDUSTRIES, Inc.
Roscom Industries, Inc. is the corporate entity that directs the operations of all its ventures. USA Xtreme RC and USA Xtreme RE are the first two online merchandising store created by Roscom Industries.
###
Featured Product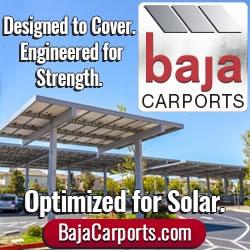 Baja Carports offers an extensive solar support system product line customized to customers' site specifications by in-house engineers, meeting their parking lot coverage, plus optimal PV production needs. Baja's Full Cantilever Tee is often paired with its Semi and Full Cantilever carports to meet live/loads up to 60psf and wind speeds to 160mph. All Baja products are pre-fabricated, bolted connections, pre-galvanized structural steel for fast on-site installation and project aesthetic requirements."