New Engage System™ further simplifies microinverter installation process
Petaluma, Calif., - June 6, 2011 - Enphase Energy today launched its most efficient and powerful technology to date, the 215-Series Microinverter, with a 25-year limited warranty. The first product in the 215-Series, the standalone M215 Microinverter, is immediately available for purchase in North America from Enphase's authorized distributors. In addition to its new microinverter products, Enphase also launched the Engage System™, a patent-pending mechanical and electrical interconnection system for streamlining solar installations.

"The all-inclusive third generation Microinverter System delivers a set of innovations that - coupled with now over 750,000 units shipped - clearly establishes Enphase as a trusted brand in solar," said Paul Nahi, CEO of Enphase Energy. "Our new offering delivers exactly what installers have been asking for - a proven, no-compromise microinverter system that sets the bar for efficiency, is simple to install and is guaranteed for the 20 to 25 year expected lifetime of the solar system."
215-Series Microinverter
All 215-Series Microinverters incorporate Enphase's third generation technology, which was specially developed to maximize the performance of 60-cell photovoltaic modules.
• Record Efficiency: The M215 is the only microinverter to achieve a weighted power conversion efficiency of 96% (CEC).
• Higher Power: At 215Wac, the new microinverter has an output that is 13 percent higher than previous generations, enabling compatibility with high-power 60-cell modules.
• 25-Year Limited Warranty: The 215-Series 25-year limited warranty ensures that system owners will recognize the full value of their solar system over its expected 20 to 25 year lifetime. The Enlighten monitoring and analysis service is now included with the Envoy communications gateway to maximize system uptime.
• Standalone and AC Module (ACM) Models: Available in North America with CSA certification and soon in Europe with VDE certification, the 215-Series Microinverter now addresses a large and growing global solar market. The 215-Series ACM model further simplifies installation by eliminating rack mounting, a separate system ground wire and DC cable management.
Engage System™
With the new 215-Series Microinverter comes the "plug and play" Engage System, which further simplifies the Enphase microinverter installation process.
• Engage Cable: This new size-to-fit cable comes with built-in connectors that can support an entire 4kW system on a single branch. Providing installers ultimate flexibility and requiring no special equipment or training, the Engage Cable can be cut to length and also comes with additional cable termination and splice kits to further reduce balance of systems requirements.
• Engage Port: This ACM microinverter port replaces the standard DC junction box on a PV module, enabling PV module manufacturers to integrate Enphase's field-proven microinverter technology seamlessly into their product portfolio, while installers continue to benefit from Enphase's system, including Engage, Envoy and Enlighten, and its top-rated customer support.
"We're a strong believer in Enphase microinverters for their reliability, high performance and ease of installation," said Michael Flood, director of operations and logistics for SolarUniverse, Inc. "As one of the first installers of the new M215, we like the cabling system as it's lightweight, quick to install and reduces cable waste with its flexible cut-to-length design."
The M215-Series Microinverter and Engage System are now shipping in North America, with the European model available for purchase in the second half of 2011. Enphase-enabled AC modules from leading module manufacturers are expected to ship in the first half of 2012.
Visit Enphase Energy at Intersolar, Munich: On June 8-10, 2011, the new M215 European model will be on display in booth #420, Hall C3 at the Intersolar 2011 Conference and Exposition.
About Enphase Energy Inc.
Enphase Energy provides solar microinverter systems for residential and commercial markets. The company offers a system that includes high-efficiency power conversion, communications and web-based monitoring and analysis. The system increases energy production, improves system reliability, and simplifies design, installation and management. Founded in 2006 and based in Northern California, the company is led by veterans from the solar and high tech industries and backed by industry leaders. For more information about Enphase, please visit www.enphase.com.
Featured Product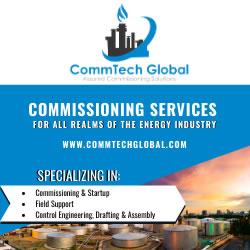 CommTech Global Solutions, LLC, provides professional and reliable commissioning services to customers in all realms of the energy industry. We blend our skills in engineering and technology with innovative business models, offering a complete range of services to assist you for a successful and in compliance operational startup. Consolidation of all our service domains gives our clients a comprehensive set of expertise and far-reaching experience on each project.