An orthopedic office in northern GA decided to protect themselves against the continually rising electricity rates in Georgia by installing a rooftop solar array with connected dual row ground mount array.
Energy Solar Systems, the solar division of Energy Roofing Systems, recently broke ground on a 37.49kW rooftop and ground mount solar install for an orthopedic office in North Georgia. The double layer ground-mount will be located along the back perimeter of the medical office's parking lot. The system is expected to generate 58,000 kWh of energy in the first year of operation alone.

Comprised of one hundred and sixty-three 230 watt panels and the latest in solar energy conversion microinverter technology, the orthopedic office will see an estimated one-half million dollars in energy savings over 35 years, reducing their monthly bill by over 15%. The project takes advantage of various federal and state tax incentives that help offset over 90% of the upfront cost.
The development is a win-win for the medical company. It will not only save them money and help protect against the already signed into legislation power rate increases from GA Power, but will also establish the orthopedic office as a role model for other medical companies and North Georgia businesses in the area to adopt renewables and implement clean energy practices.
Featured Product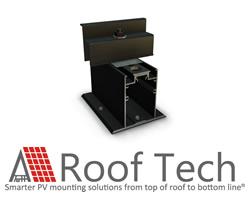 The most compact versatile rail-less PV mounting system under the sun. Instead of placing solar panels on top of long rails, simply attach E Mount AIR to rafters or the roof decking. Once panels are fastened to the roof, the system array is electrically bonded. The result is a visually seamless PV installation that stands the test of time. - Truly "One With The Roof". - PE stamped cert. letters available, UL 2703 Classified, ASTM 2140 fully waterproof. The one and only with integrated flexible flashing certified by the ICC! All the best quality. Only from Roof Tech