Analog Front End ICs and Multi-band Dynamic Filtering Firmware Compliant to National Electrical Code
National Semiconductor introduced the SolarMagic™ arc detection reference design, comprised of analog front end integrated circuits (ICs) and multi-band dynamic filtering firmware, the first commercially available chipset to detect hazardous DC arc faults in photovoltaic (PV) systems.

National will demonstrate the SolarMagic arc detection reference design in its booth in Hall A1.151 at the Intersolar Europe Conference in Munich, Germany, June 8-10.
In PV systems today, intermittent connections or insulation deterioration (faults) can cause DC circuits to generate arcs of considerable energy. The arc, reaching temperatures of over 3,000 degrees C, poses safety risks to surrounding infrastructure and personnel. The 2011 U.S. National Electrical Code (NEC) 690.11 requires an arc-fault circuit detect and protect system as part of all new PV system installations. National's new SolarMagic arc detection reference design includes analog front end ICs and multi-band dynamic filtering (MBDF) firmware. Together, they detect the arc fault condition and provide an alert to shutdown system power, extinguishing the arc.
"It's through National's comprehensive signal processing and power management product portfolio and years of work in the solar industry that we are able to understand and correct PV module over-voltage problems," said Patrick Quinn, general manager for National's Solar IC Division. "Our arc detection reference design along with the new integrated circuits is one of many systems that National is developing for applications spanning the entire solar PV industry."
About National's SolarMagic Arc Detection Firmware
Arcing events in PV arrays are very difficult to detect. An electric arc does not leave a uniquely identifiable electronic signature. In addition, the power lines of a PV array act as very effective antennas for a wide range of electromagnetic interference in the vicinity of the array; inverters also contribute additional noise that is induced onto the power lines. A sophisticated signal processing approach is required to reliably detect the entire range of dangerous arcing events without false alarms when the PV array is operating under safe conditions. National Semiconductor has developed a patent-pending signal processing approach. The MBDF firmware uses a state-of-the-art abstracted pattern recognition approach that does not require the arc signature to match a rigid, pre-described, absolute shape.
Technical Features of National's SolarMagic Arc Detection Chipset
National's SolarMagic chipset is an analog front end (AFE) featuring three highly integrated ICs. The SM73201MM 16-bit, 50 to 250 kSPS, differential input, micropower ADC digitizes the arc signal after the AFE gain and filtering stage, and sends the digital signal to the microcontroller. The SM73308MG low offset, low noise, RRO operational amplifier provides the Vref mid-point for the arc-detect AFE. The SM73307MM dual precision, 17 MHz, low noise, CMOS input amplifier provides gain and filtering of the arc signature signal. Additional National power management chips enable various support functions.
Pricing and Availability
Download the RD-195 arc detection reference design, including an evaluation board, bill of materials and schematic, at http://www.national.com/rd/RDhtml/RD-195.html. Available now, the SolarMagic arc detection chipset is offered in a variety of industry-standard electronic packages and priced at $7.90 in quantities of 1,000 including a license for the MBDF firmware. More information is available at http://www.national.com/en/solarmagic/index.html.
Featured Product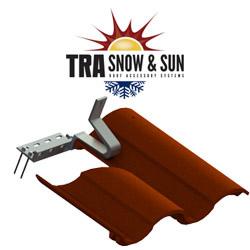 You haven't installed a tile mount that is easier to install than the Solar Tile Mount manufactured by TRA Snow and Sun. Solar Tile Mount is used on all tile roof profiles: flat, mid, and high. It is made in the USA of aluminum alloy for strength and excellent corrosion resistance. Solar Tile Mount is built to allow more ease in installation with more rise from the tile surface to the rail for better air flow below panels. The adjustable base is longer than most allowing attachment 6" to the left or right to have the bracket in the base of the pan of the tile and still fasten to the rafter. Solar Tile Mount is adjustable for counter batten systems from ¾" to 3". The horizontal rail is directly above base fasteners giving greater uplift resistance than any other system. For superior waterproofing apply TRA Snow and Sun's butyl backed VersaFlash aluminum flashing. No tile flashing is needed on top of the tile for greater labor and material cost savings.