The Austrian quality leader appeared at Intersolar 2011 under its new brand image, "Shifting the limits". The message epitomises what the company stands for: providing services to its customers using state-of-the art technology - to the highest quality levels on the market. By developing innovative
New inverter - Fronius IG Plus 100 V-3
With the Fronius IG Plus 100 V-3, Fronius is satisfying market requirements and unveiling a three-phase inverter with an output power of 8 kW. The device is an update to the successful Fronius IG Plus series product portfolio and is due to be launched on the European market (except Italy) in July 2011. The inverter boasts a variety of features: reactive power provision, three-phase feed-in and dynamic grid backup ensure problem-free integration into the grid, even in regions with a large number of PV systems. There are no phase-load imbalances at all.
The usual benefits, such as the Fronius MIXTM concept, the HF transformer switchover, the Fronius Module Manager, the PC board replacement concept, the service-friendly installation system and the cleverly-designed ventilation system, are all present in this latest addition to the Fronius IG Plus family.
Fronius Solar.web app
The Solar.web app is an innovative solution developed by Fronius that enables data to be retrieved from private PV systems across the world using a Smartphone. This requires an upgraded version of the Solar.web system monitoring portal1 for Smartphones. This feature enables system operators to keep constant track of energy yields. Furthermore, the Fronius Solar.web app allows all systems registered by the operator to be monitored.
Two applications, one for Apple products and one for Android products, cover a comprehensive target group. Prerequisites for the use of the tool are an iPad, iPhone or iPod with the iOS 4.2 operating system or higher, and an AppStore account. The application for the Android operating system can be used on all Smartphones providing certain system requirements2 are met. Both apps are available now.
Fronius arc detector
The Fronius arc detector was a real highlight at Intersolar 2011. This is a new device that ensures that safety standards for PV systems are always maintained at a high level. PV systems have a long service life, meaning that some electrical connections can work loose over time, leading to the risk of arcs occurring.
As a result of the missing voltage zero in the direct current range, the arc does not extinguish easily on its own. A conventional inverter does not detect the arc and therefore continues to feed energy into the grid. Fronius inverters, which are fitted with a Fronius arc detector, recognise serial arcs³ automatically and extinguish them by ensuring that the devices disconnect themselves from the grid. The inverter can be reconnected either manually or automatically once the arc has been detected.
The Fronius arc detector will be available as an optional plug-in card that is inserted directly into the inverter, meaning no extra installation costs. The safety equipment is scheduled to go into series production in 2012.
Energy management function for the Fronius IG Plus inverter series
Energy management is becoming increasingly important. Feed-in tariffs and private consumption are being discussed on a daily basis. Quality leader Fronius is also very much involved in this area and is making its own contribution to energy management. The energy management function for the Fronius IG Plus series enables system operators to use more of their own PV-generated energy.
It is possible to configure a power hysteresis using a signal card in the inverter. This means that on/off thresholds can be set on the inverter as units of power (Watt). An example of how this works is as follows: if the inverter delivers more than 2000 W of power, the relay output is activated on the signal card. When production falls below 1800 W, it is deactivated again. The self-generated PV current is not fed into the grid, but can be used in one's own home. Launch of the energy management function on the European market is scheduled for October 2011. The signal card and firmware update can be retrofitted on Fronius IG Plus V devices at any time.
1The Fronius Solar.web is a free online service for the remote monitoring of PV systems.
2Software: Android 2.1 (Eclair) or higher; Hardware: minimum, e.g. HTC Wildfire (528 MHz, 384 MB RAM, resolution 240x320) - optimum, e.g. HTC Desire (HD), Motorola Milestone 2, Samsung Galaxy S (1 GHz, 512 MB RAM or more, resolution 800x480 or higher).
³ An arc that can occur when opening contacts, or if electrical connections are poor.
Featured Product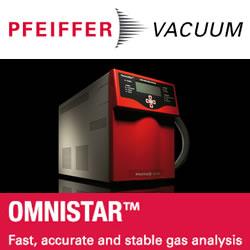 The Pfeiffer Vacuum OmniStar benchtop analysis system offers you a compact footprint, powerful software and Ethernet connectivity. It's the optimum solution for many real-time gas analysis applications. With the OmniStar, Pfeiffer Vacuum offers you a complete solution for gas analysis, in chemical processes, semiconductor industry, metallurgy, fermentation, catalysis, laser technology and environmental analysis. The turnkey OmniStar gas analysis system consists of heated, temperature-regulated gas inlet system, Quadrupole mass spectrometer, a dry diaphragm vacuum pump and HiPace turbopump. Unlike competing methods such as FTIR, OmniStar is suitable for qualitative and quantitative analysis of most gases.