Schletter Inc. hosting eastern training workshop for residential, commercial, and utility-scale installation companies.
Schletter©, a well-known, reliable partner in solar photovoltaic (PV) racking systems, will be hosting a three-day solar PV installer workshop in Hartford, Connecticut, August 23 – 25 at the Sheraton Bradley.

Schletter will dedicate the first day to residential and small commercial installation companies, who seek more product knowledge of Schletter racking systems and planning software. During day two and three of the workshop, Schletter has invited industry leaders to host workshop sessions for utility-scale and large commercial installation companies. In addition to practical training, several classes qualify as NABCEP® continuing education credits.
"Schletter provides cost-effective racking with short turnaround times, efficiently, while including end-to-end engineering in each product, regardless of its size," says Martin Hausner, President of Schletter Inc. "As a U.S. manufacturer, providing some of the lowest prices in the market is something we are proud to have achieved. Because of our global reputation, we believe taking the lead in such workshops is a valuable service for our customers."
The Company [Schletter] has established an on-line information page at http://www.schletter.us/event-registration.html for this event.
About Schletter Inc.
Schletter (www.schletter.us) has designed, developed and manufactured solar racking projects in the U.S. since 2008 while backed with more than 18 years of solar racking experience from Schletter GmbH. Since opening its United States facility in Tucson, Arizona Schletter Inc has manufactured more than 300 MW of installed PV mounting systems. Schletter Inc offers products for roof mount and ground mount systems for residential, commercial, and utility scale photovoltaic systems. Schletter Inc is an independent subsidiary of Schletter GmbH, which operates subsidiaries in eleven countries with more than 1,200 employees worldwide. For more information on Schletter GmbH, please visit www.schletter.de.
Featured Product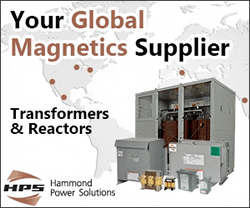 HPS is the largest manufacturer of dry-type transformers in North America. We engineer and manufacture a wide range of standard and custom transformers that are exported globally in electrical equipment and systems. We support solid industries such as oil and gas, mining, steel, waste and water treatment, and wind power generation. HPS leads the industry in these markets through its technical design strength, breadth of product, and manufacturing capabilities, making HPS a stronger company both fundamentally and financially.