Company Extends Warranty to 30 Years
Marysville, WA – July 11, 2011 – Silicon Energy, a manufacturer of world-class solar photovoltaic (PV) systems for the North American market, announced today that it has extended its Silicon Energy Cascade PV System Power Warranties by five years. Based on over two years of field performance data and extensive third-party testing by NREL (National Renewable Energy Laboratory), Silicon Energy's decision to extend its product warranty makes it one of the strongest warranties in the industry.

"We are committed to making solar a mainstream energy source with products that are safe, durable, maximize energy production, increase energy harvest, are aesthetically appealing, and support our local economy and environment with smart manufacturing practices," said Gary Shaver, president, Silicon Energy. "Customers who choose Silicon Energy for their PV systems are choosing best-in-class products, now backed by one of the industry's top warranties. Our product lifespan, application flexibility and optimized energy harvesting capability make our product a great investment."
For Silicon Energy's growing network of partners and contractors who sell and install the company's PV systems, the extended warranty provides an added incentive for customers who want a long-term system that boasts a 40+ year usable life and innovative design that provides completely sealed wiring to make it extremely safe, a theft-resistant mounting system, the highest industry fire rating, and frameless design that allows water, dirt, snow and ice to easily flow off for optimal light access and energy creation even in extreme weather conditions. The Silicon Energy glass-on-glass construction also enables installations such as awnings, carports, patio covers, and bus shelters. For those design-conscious customers, the company also provides custom color mounting hardware for visual continuity.
Silicon Energy's extended warranty is available starting July 1st for its Cascade PV System.
• Limited Product Warranty Materials & Workmanship: 5 years
• Limited Power Warranty:
- 1-15 years (up from 10 years) for power output greater than or equal to 90% PMAX
- 16-30 years (up from 25 years) for power output greater than or equal to 80% PMAX
In addition to presenting its extended warranty, Silicon Energy recently has been able to reduce its pricing as a result of manufacturing improvements and strengthened vendor relationships.
"When choosing Silicon Energy PV systems, our customers are making a sound investment in solar, their local economy, their environment, and clean energy creation for many, many years to come," closed Shaver.
About Silicon Energy
Founded in 2007, Silicon Energy delivers the highest quality and durable photovoltaic (PV) modules on the market today. Made in Washington and Minnesota, Silicon Energy's sustainable approach to doing business offers customers a durably-made, locally-manufactured product that was created without negative environmental impact. The company's philosophy of supporting the local and US economy and commitment to creating long-lasting, aesthetically pleasing PV allows customers to be confident that they are reducing their carbon footprint through solar installations and contributing to local business. Silicon Energy PV Systems are available through select partners for home, commercial, government and utility installations. For more information about Silicon Energy, please visit www.silicon-energy.com or call (360) 618-6500.
Media Inquiries
Revolution PR for Silicon Energy
Jennifer Karkar Ritchie, 206-932-2454, jennifer@revolutionpr.com
Aaron Hilst, 206-355-3506, aaron@revolutionpr.com
Featured Product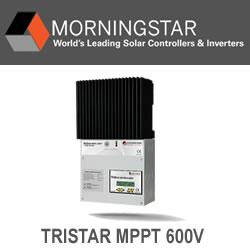 Morningstar's TriStar MPPT 600V charge controller leverages Morningstar's innovative TrakStarâ"¢ MPPT technology and our 20+ years of power electronics engineering excellence, to enable the widest input operating voltage range available from a solar array, wind turbine or hydro input. This controller's standard and DB versions are for off-grid applications, and the TR versions were developed to enable retrofitting grid-tied systems with battery backup.