Golden Spot GSA series, the BRC machines, able to meet customer's specific requirements, provide a wide variety of technical solutions for the welded mesh production.
SA series, the innovative wire mesh welder made by Golden Spot Industrial Inc., are equipped with new developed Line Wire feeder, Cross Wire Feeder, Spot Welding System and Output Installation.

The Line Wire Feeder of this GSA wire mesh welder has a main loading bench, which is an insertion cart that includes fixed guide channels and a series of fixed blocking clamps where the operator can insert the line wires.
Cross wire feeder of this BRC wire welder owns an automatic sole cross wire loading carriage which its speed can be up to 80 pcs per minute (for Ų6-7mm wires). It carries a bundle of wires (weight 2 tons, length 1000~2400mm, wire diameter 3~10mm, and pitch≧50) into the carriage by traveler, it raises safety concern without fear of supplying wires by hand.
The most important part of this welder is its welding controlling system. This welding system can monitor and adjust the weld in real-time to ensure a consistent weld by PLC program. The welding time and current can be set individually. This welding controlling system is equipped with man-machine interface monitor; all the parameters and figures can be set on the screen. The operator can easily operate and maintain the welding machine.
Beside those new developed devices we mentioned above, the output Installation also plays a key role in the welder. The output device, equipped with servo motor and clamping arms, hooks the mesh panel on the first cross wire through a number of clamping arms. The group pulls the mesh progressively forward as it is produced in programmed steps based on the cross wire pitch desired, adjustable to cater for different line wire pitches and pulling welded mesh as long as 2.4M for one time.
The application of theses machines ranges from shell structure, wall structure, reinforced concrete road, retaining wall, protection slope, grating trench cover, floor grating, grill floor, metal floor, ribbed and pressed metal mesh, forge-welded grating, concrete reinforcement, construction fence, concrete forming system, reinforcement fabric, concrete meshes, prefabricated steel reinforcing material and fabricated stainless steel wirework, all of these construction works are able to be finished by GSA series BRC wire mesh welding machine.
These advanced BRC machines are from Golden Spot Industry Inc., a famous manufacturer for various auto spot welding machineries in Asia, with abundant OEM/ODM experiences in designing and manufacturing spot welders and welding equipments, passing ISO-9001:2008 certificate, being approved and certified with CE. No wander their wire mesh welding machine impresses global buyers with their innovative design, reliable quality. There are still numbers of inquiries from all over the world for their machines everyday.
For more information about the wire mesh welding machine, please visit their web site: www.goldspot.com.tw or contact their sales agents in your local country.
Contact information:
Company: Golden Spot Industry Inc.
Address: No. 6, Alley 25, Lane 25, Kuo Chung 1st Rd., Ta Li Dist., Taichung City, Taiwan
Contact Person: Ms. Zoe Huang
Tel: 886-4-2406-5040
Fax: 886-4-2406-1060
E-mail: gold.spot@msa.hinet.net
Website: www.goldspot.com.tw
Featured Product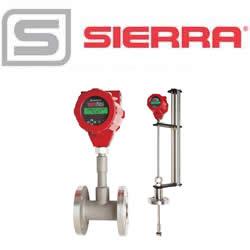 Sierra was the first to introduce a combination volumetric vortex and multivariable mass flow meter in 1997. Today, Sierra's completely redesigned InnovaMass® iSeriesā"¢ 240i/241i builds on two decades of success measuring five process variables for gas, liquid and steam with one connection. Now, with the latest hyper-fast microprocessors, robust software applications, field diagnostic and adjustment capability, and a new state-of-the-art flow calibration facility, Sierra's vortex iSeries delivers precision, performance, and application flexibility never before possible.