Vertegy's FREE webinar on Aug. 4 will focus on building LEED K-12 schools
St. Louis-based Vertegy was recently tapped to participate in the second annual Virtual Green Expo, hosted by Environmental Design + Construction and Sustainable Facility magazines. On Aug. 4, as part of the Expo, Vertegy's General Manager Thomas Taylor and Environmental Specialist Christy Cunningham-Saylor will present a FREE webinar at 9:45 a.m. CST entitled, "Building a LEED K-12 School." The webinar will discuss the LEED for Schools rating system and the specific strategies for designing and constructing green schools. Roofing Contractor, Walls & Ceilings and PMEngineer magazines are co-media partners for this FREE state-of-the-art virtual expo, which runs from 8 a.m. to 4 p.m. on Aug. 4 and will focus on Green Schools, one of the largest construction sectors in the United States.

The Virtual Green Expo is an online event aimed at industry professionals who may be limited by time and budget constraints, but who are also interested in earning continuing education credits, hearing from experts in the field, downloading whitepapers, networking with peers, and visiting suppliers. The show and its educational sessions also provide participants with the opportunity to interact, one-on-one, with others who are focused on green schools.
Besides Vertegy's webinar, the expo's schedule includes exhibitors, other experts and webinar topics on high-performance K-12 and college/university buildings and educational facilities that will address:
• Specifying interior, exterior and mechanical systems (plumbing, heating, roofing and wall systems)
• Creating a high-performance, healthy learning environment
• Financing, operating, maintaining and cleaning a green school
The day will start with a keynote presentation from expert John Shea, CEO, New York City Department of Education, Division of School Facilities, continuing with four back-to-back webinars, each followed by a typed group chat session with presenters.
For the full conference agenda and to register, visit www.TheVirtualGreenExpo.com. For more information on the conference, contact Sarah Gorajek at 248-786-1671.
About Vertegy
Founded in February 2005, Vertegy provides clients with design, procurement and construction consulting services for green and sustainable facilities. One of the key ways Vertegy serves clients is by helping them gain certification for their projects from various nationally and internationally recognized certification bodies, such as the U.S. Green Building Council (USGBC), which provides LEED (Leadership in Energy & Environmental Design) certification. Vertegy — which is derived from combining the Latin root for green and strategy — is based in St. Louis at the LEED Platinum Alberici Corporate Headquarters.
About the Virtual Green Expo
August 4, 2011 will be the second year for this virtual event concept developed by Environmental Design + Construction and Sustainable Facility magazines. Leveraging the power of our virtual platform with the unique and vital information from our community of experts – the Virtual Green Expo is designed to give attendees the information they need – FAST and FREE. Suppliers will have a unique opportunity to share their new products, videos, expertise and nearly anything else they would like to share with attendees. Then, through features like group chat, private chat, show email and virtual business card exchanges, suppliers and attendees connect during and after the show.
What is a Virtual Event?
A virtual event is a gathering of people sharing a common environment online to create an interactive experience similar to a conventional trade show. Attendees can interact with booth personnel, network with peers, watch video product demonstrations and webinars, and download product catalogs or other technical documents into their virtual trade show bag, just as you would at a conventional trade show. Since virtual trade shows can be attended by the entire team from a single computer screen, cost of travel, lodging and time away from the office issues are essentially eliminated.
Featured Product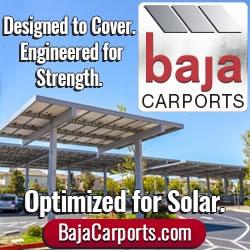 Baja Carports offers an extensive solar support system product line customized to customers' site specifications by in-house engineers, meeting their parking lot coverage, plus optimal PV production needs. Baja's Full Cantilever Tee is often paired with its Semi and Full Cantilever carports to meet live/loads up to 60psf and wind speeds to 160mph. All Baja products are pre-fabricated, bolted connections, pre-galvanized structural steel for fast on-site installation and project aesthetic requirements."