WEBstaurant Restaurant Supply is pleased to announce the completion of the first of three solar arrays in Upper Leacock Township.
(Lancaster, PA) – WEBstaurant Restaurant Supply is pleased to announce the completion of the first of three solar arrays, totaling 1.6 megawatts in Upper Leacock Township. The entire project, designed and constructed by EcoEnergy , will utilize 7,000 panels to supply 1.6 megawatts of clean and renewable electricity, eliminating CO2 emissions equivalent to more than 51,000 gallons of gasoline annually.

Rocky Shoemaker, part of EcoEnergy's business development department, said the completion of this solar array shows the company's dedication to going green and bettering local communities.
"EcoEnergy is excited to commission one of the largest solar arrays in Lancaster County," he said. "This accomplishment is a testament to our commitment to providing cost-effective solutions and to improving the community we live and work in."
Overall, the new array will save $74,000 each year by offsetting electric bills and credit from the utility company for supplying excess power to the area. By its completion, the project will yield a combined savings/revenue total of $225,000 annually. Chris Ichter, also of EcoEnergy, said the company can offer other businesses financially responsible and environmentally favorable ideas on renewable energy.
"Many companies are very environmentally conscious in this day and age," he said. "Being able to offer them a substantial solution while at the same time positively impacting their bottom line makes it a win for the environment as well as the consumer."
Operating the new 2,520-panel array will have the same positive environmental impact as planting 11,700 trees each year and eliminate as much carbon as the natural processing power of 95 acres of forest. The ultimate goal of this solar project is to eliminate energy dependency and reduce the company's carbon footprint through the use of alternative energy solutions.
Featured Product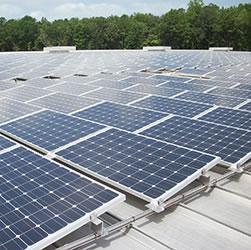 The Power Rail™ Commercial Mounting System is designed with the professional PV solar installer in mind. Both the XD/UD and LD/MD rails feature single tool assembly with the revolutionary patented RAD™ Lock-in-Place bolt for fast and secure module clamping. The high strength marine-grade aluminum rails include an integral wiring channel for securing cables and providing a professional finish.