Leading Solar Energy Trade Show Offers Conference Session, Instructional Workshop and Ideas Swap Roundtable Formats
Washington, DC - August 9, 2011 - Solar Power International 2011 (SPI '11) offers a comprehensive educational lineup featuring 36 conference sessions in six professional tracks, 14 instructional workshops, and six interactive Solar Idea Swaps. SPI '11, the premier business-to-business global solar conference and expo takes place October 17-20 at the Dallas Convention Center. Presented by Solar Electric Power Association (SEPA) and Solar Energy Industries Association (SEIA), SPI '11 is designed to serve and advance the solar energy industry.

"Solar Power International is the must attend conference for businesses and professionals looking to break into the fastest growing industry in America," said Rhone Resch, president and CEO of the Solar Energy Industries Association. "Spanning four days, the conference program offers attendees a chance to learn about the innovative new business models, products and technologies that are driving solar energy's rapid market growth."
"We are excited to present a wide-ranging educational program for SPI attendees to learn about the latest solar trends and technologies to integrate into their businesses," said Julia Hamm, president and CEO of Solar Electric Power Association. "Spanning across four days, the conference program offers an opportunity to expand knowledge of the fast-changing solar industry."
Conference Program
Thirty-six conference sessions in six professional tracks feature the most current information for professionals looking to craft their own particular brand of success in the solar industry.
Tracks include:
• Finance - Five sessions provide an in-depth look at the financing strategies for utility-scale, commercial, and residential systems, as well as the outlook for tax equities and Solar Renewable Energy Credit (SREC) market.
• Integration: Deployment/Grid - As utilities begin to integrate large amounts of solar energy into their electric grids, performance and reliability become major concerns. Four sessions explain connection strategies, the economics of integration and the successes and challenges with interconnection and intermittency.
• Markets - Out of seven sessions, four focus on market prospects for North America, grid parity, potential for residential, business, and commercial expansion, as well as how utilities and the solar industry can collaborate to build new markets. Texas is positioned to become a major force in utility-scale solar. Three sessions discuss the state's accomplishments to date, utility structure and regulations, and the opportunities and challenges for future growth.
• Policy - Eight sessions discuss the latest policy and regulatory developments across the country, state and federal incentives, future market trends, and opportunities for growing the industry.
• System Design: Putting Solar To Work - This track explores in four sessions how the solar industry is integrating brownfields, solar thermal technology to increase efficiency, photovoltaic codes and standards, and best installation practices and design.
• Technology: Operational Issues and Safety Standards - Five sessions highlight safety classifications and requirements, how to bring innovations from R&D to market, patent law, and the latest in power electronics.
• Hot Topics - Three sessions will be announced at a later date.
Solar Idea Swaps
The highly successful Solar Idea Swap returns again to SPI. Designed for networking and discussion, Solar Idea Swaps include six interactive sessions on timely industry issues. Each hour-long session is facilitated by an industry subject expert, creating the opportunity for engaging group conversation.
Topics include:
• The Need for Codes and Standards in Solar Infrastructure
• Bridging the Gap for Renewables in the Caribbean and Latin America
• Emerging Hidden Markets
• Navigating Solar Careers -- The On-Line Solar Career Mapping Project
• Ownership vs. 3rd Party Financing Smackdown in Residential PV
• Corporate Social Responsibilities
Workshops
Fourteen workshops provide an excellent opportunity for both industry newcomers and veterans alike to dig deep into the subject matter of interest. Workshop participants can earn industry credits with the North American Board of Certified Energy Practitioners (NABCEP).
Topics include:
• Solar Business and Finance
• Commercial PV Design, Operations, and Maintenance
• Tech Talk for the Non-Technical PV Professional
• Solar Thermal Systems, Designs and Markets
• Commercial and Residential PV Field Installations Best Practices
• PV Economics for Commercial and Residential PV
• Concentrated Photovoltaics Technology and Scaled Deployment
• Energy Storage Market, Policy Developments and Value Proposition
• U.S. Photovoltaics Industry Review
• Rooftop PV System Updated Guidelines and New Code Requirements
Sprawling across 1.1 million gross square feet within the Dallas Convention Center, SPI features more than 1,200 international and US exhibitors. The annual showcase is the epicenter for all that is new in solar and has consistently been the comprehensive event to promote, launch, sell and demonstrate products and services in North America for the global solar industry. SPI 2011 Sponsors include: Terawatt sponsor Sharp and Gigawatt sponsors Hanwha SolarOne & LDK.
Click here to view the full program lineup and start building your show schedule.
Registration is now open. Please visit www.solarpowerinternational.com to register today.
# # #
Solar Power International 2011 (SPI), presented by the Solar Energy Industries Association (SEIA) and the Solar Electric Power Association (SEPA), is designed to serve and advance the solar power industry and draws more than 24,000 professionals representing over 128 countries. SPI 2011 takes place October 17 - 20 at the Dallas Convention Center. Registration, sponsorship, exhibitor and program information can be found at: www.solarpowerinternational.com.  
The Solar Electric Power Association (SEPA) is an educational non-profit organization dedicated to helping utilities integrate solar power into their energy portfolios. With more than 825 utility and solar industry members, SEPA provides unbiased utility solar market intelligence, up-to-date information about technologies and business models, and peer-to-peer interaction. From hosting national events to one-on-one counseling, SEPA helps utilities make smart solar decisions. For more information, visit www.solarelectricpower.org.
Solar Energy Industries Association Established in 1974, the Solar Energy Industries Association is the national trade association of the U.S. solar energy industry. Through advocacy and education, SEIA is working to build a strong solar industry to power America. As the voice of the industry, SEIA works with its 1,000 member companies to make solar a mainstream and significant energy source by expanding markets, removing market barriers, strengthening the industry and educating the public on the benefits of solar energy. www.seia.org
Featured Product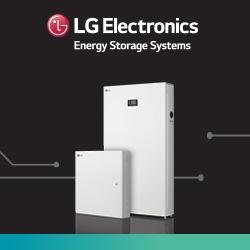 The NeON R module features "Back Contact" cell technology delivering an entirely black panel that is aesthetically pleasing and energy efficient. The cell's seamless, surface blends perfectly into nearly all rooftop designs while the module's electrodes are positioned on the rear of the cell. Using LG's N-type cell structure, the panels produce 365W of energy, up to 7.3kWp, compared to 5.8kWp of the p-type cell. The module's new design minimizes LID, thereby delivering a longer lifespan and increased energy output.