WAILUKU, MAUI, HAWAII: Maui-based HNU ENERGY has commenced installing the largest solar PV installation to date in South Maui at Premier Place in Maui's Research & Technology Park. The sleek, black glass clad, Class A office building at 535 Lipoa Parkway is home to prime tenants Boeing and the US Air Force who support computer intensive, mission critical satellite tracking capabilities on Haleakala summit. Thanks to HNU ENERGY, over half the energy consumed at Premier Place will come from a clean, safe, state of the art renewable solar PV system.
HNU Energy custom designed a compact, highly efficient 231 kW solar PV system for Premier Place. "Given high energy demands and a fairly tight rooftop footprint, we installed the most efficient (over 19%) commercially available solar PV on the planet – incorporating the latest, patented rear contact design," said Dan O'Connell, CEO of HNU ENERGY. "The racking system used for this project has earned the highest wind rating on the market," O'Connell continued, "without compromising roof integrity with a single penetration." The novel ballasting system also increases roofing insulation by an additional factor of R10. HNU ENERGY's comprehensive component monitoring system, powered by its own proprietary software, will ensure long years of optimal operation.

HNU ENERGY has a long history of supporting Maui's tech community and its Research and Technology Park. Ironically, Dan O'Connell's first employment on Maui 20 years ago was at Boeing's office in Premier Place. Many years later, O'Connell suspended his PhD studies to found HNU PHOTONICS, the parent of HNU ENERGY. Over the past 5 years, both companies have supported Maui's tech community, the R&T Park, and Haleakala's observatory operations in a variety of areas.
A pilot renewable energy storage facility has been on line at the Maui Economic Development Board's offices at the R&T Park since 2009. HNU ENERGY'S environmentally friendly, innovative large format lithium-based platform with integrated proprietary interface monitoring optimizes load balance to ensure grid stability while maximizing battery service life. HNU ENERGY'S comprehensive system ensures seamless, energy efficient transitions between grid-tied and off-grid status.
Based on the successful operation of this pilot storage facility at the R&T Park, the US Department of Energy is awarding HNU ENERGY a contract to install a 1.0 MW storage system at Maui Electric's South Maui substation in Kihei. This location is particularly appropriate, as HNU ENERGY has now installed the largest (Premier Place), the second largest (Pi'ilani Village Shopping Center), and numerous other renewable energy generation systems in South Maui.
Elsewhere in the Research and Technology Park, HNU ENERGY has installed energy saving high efficiency LED street lighting in test areas. Additional cutting edge renewable energy projects within the R&T Park are in development.
In its July 2011 annual ranking of "Hawaii's Fastest 50", Pacific Business News recognized HNU PHOTONICS as the 7th fastest growing small business in the state. With 15 commercial and two dozen residential projects currently in the pipeline across the state, HNU ENERGY has increased its installation team by 50% (from 20 to 30) over the past year.
Additionally, HNU PHOTONICS has employed more than 30 student interns from the University of Hawaii Maui College over the past five years. "We have a deep commitment to Maui's next generation of renewable energy technicians," says HNU ENERGY'S O'Connell. "Our student interns learn real world skills to land good jobs on Maui while sharing their abilities and enthusiasm with our team."
Based in Wailuku, Maui, Hawaii, HNU ENERGY is a subsidiary of HNU PHOTONICS, a fully integrated science and technology company, devoted to incubating innovative ideas into state of the art products with commercial, scientific, and military applications. Among many other contributions to energy efficiency, HNU ENERGY'S award winning "MAREXIM-HNU" LED lighting products are rapidly gaining recognition for high quality and performance in an increasingly crowded marketplace for high efficiency lighting.
Featured Product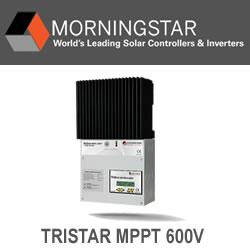 Morningstar's TriStar MPPT 600V charge controller leverages Morningstar's innovative TrakStar™ MPPT technology and our 20+ years of power electronics engineering excellence, to enable the widest input operating voltage range available from a solar array, wind turbine or hydro input. This controller's standard and DB versions are for off-grid applications, and the TR versions were developed to enable retrofitting grid-tied systems with battery backup.