to Develop Integrated Smart-Grid Ready PV Inverters with Utility Communications (RELEASE DATE: 9/6/11)
Solectria Renewables, LLC, the leading U.S. PV inverter manufacturer, announced today that it has been awarded a $2.1 million U.S. Department of Energy (DOE) contract to develop integrated smart-grid ready photovoltaic (PV) inverters with utility communications in partnership with the Electric Power Research Institute (EPRI), Detroit Edison, National Grid and Xcel Energy. The awarded contract is part of the DOE's SunShot Initiative which accelerates the development of cost-competitive solar technologies.

This program will demonstrate smart‐grid ready inverters with grid support functionality and required communication links with utilities to capture the full value of distributed PV. The key objectives of this program are to leverage ongoing investments—in smart grid and related standards—and to expand PV inverter capabilities, which together will enable grid operators to better utilize these grid assets. The main elements in this project are: head‐end communications at the utility operations center; integration into the Distribution Management System (DMS); back‐end PV plant master controller; and smart‐grid functionality built into the inverters.
"We are honored to have been selected by the Department of Energy to receive this award, which is a reaffirmation of our leadership in the inverter space," said Michael Zuercher-Martinson, CTO of Solectria Renewables. "Enabling utilities to control our SMARTGRID inverters (SGI) is the next big step towards a smarter grid that can accommodate a very high PV penetration density in a safe, secure, efficient and reliable manner."
Today's utility scale PV inverters are not well integrated with existing DMS control distribution switches, load‐tap changers, capacitor banks, and other circuit operation distributed resources. Under this contract, EPRI and Solectria Renewables will integrate the DMS, enabling utilities to communicate different operating objectives such as a normal mode, with no disturbances, energy conservation mode, demand reduction mode, or grid‐level emergency mode. This is essential to avoid operational problems and additional costs while reducing inverter maintenance.
Detroit Edison, National Grid and Xcel Energy will supply test sites ranging from 605kW to 30MW. Each of the sites will test different aspects of the aforementioned technologies being developed by EPRI and Solectria Renewables.
The completed program will demonstrate end‐to‐end communication connectivity and control between the utility operations and distributed resources by developing DMS, the communication head‐end at utility operation center, substation DER SCADA, (e.g. the communication path), back‐end plant master controller and inverters with smart‐grid functionality.
About Solectria Renewables, LLC
Solectria Renewables, LLC is the leading U.S. based grid-tied photovoltaic inverter manufacturer for residential, commercial and utility-scale solar installations. Our versatile line of high efficiency products provide power solutions ranging from 1 kW residential systems to multi-megawatt solar farms. Solectria Renewables' products are backed by more than 20 years of experience in the power electronic and inverter industries and supported by world class warranties. All of our commercial and utility-scale PV inverters are manufactured in the USA, ARRA compliant, Ontario FIT Content Compliant, and listed to UL 1741/ IEEE 1547.
To learn more about Solectria Renewables, please visit http://www.solren.com.
CONTACT
Natalie Wiener
Marketing Manager
Solectria Renewables, LLC
+1 978-683-9700 x157
natalie@solren.com
Scott Bowden
Business Dev. Manager
Solectria Renewables, LLC
+1 978-683-9700 x154
scott@@solren.com
###
Featured Product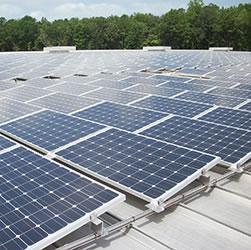 The Power Rail™ Commercial Mounting System is designed with the professional PV solar installer in mind. Both the XD/UD and LD/MD rails feature single tool assembly with the revolutionary patented RAD™ Lock-in-Place bolt for fast and secure module clamping. The high strength marine-grade aluminum rails include an integral wiring channel for securing cables and providing a professional finish.