2011 has been a year of significant milestones for Ohio based Nextronex, Inc. As the first full year with the company's products on the market has progressed, more customers are finding that the higher energy output advantages are real with the exclusive Distributed Architecture of the Ray-Max® Inverter System.
Key Events in 2011:

• 2011 sales more than double 2010 in first 8 months
• Over 6 MW of systems have been sold or specified for major projects
• First international order for 1 MW shipped to Thailand
• 1 MW system for the City of Toledo, OH & IPS with advanced communication and telemetry qualified
• First industrial brownfield site completed with Hull & Associates
• Participated in the Solar Vision 5 MW Celina, OH ground breaking ceremony
• Original Beta Site expanded
• First rooftop installation completed on the Toledo Museum with ADG
• Shareholders continue support with over $2 million preferred investment to date
• Headquarters and manufacturing relocated to new facility in cooperation with the University of Toledo
• Web site enhanced to include the Nextronex Solar Harvesting Model
• Telemetry and monitoring software eliminates the need for 3rd party systems
• Company successfully converted from an LLC to C Corporation
• Company's first Line of Credit established
"Customers who have taken the chance on a new company and a new inverter concept are now realizing the benefits of the system," says Bruce Larsen, Chairman and CEO of Nextronex, Inc. "With actual output rates exceeding even our own Solar Harvesting Models, these customers are realizing as much as a 14% higher energy output than similar arrays in the same geographic regions. Something we knew was possible and are elated to prove in real life."
The Nextronex technology revolves around the simple concept that commodity inverters are inherently inefficient and have short lives. By developing a "Smart" system in which multiple inverters interact in concert to optimize efficiency the solar power plant generates more energy, lowers the cost per watt, and extends the life of the core inverters.
"After conducting several Nextronex Certified Technician training programs we have found many of our customers simply don't realize how much more energy is available from there project," reports Peter Gerhardinger, V.P. of Technical Sales. "After learning the science behind our technology they begin to understand what Distributed Architecture is all about. This also was the primary reason we developed the Nextronex Solar Harvesting Model. Other predictive models simply don't work with our system."
The company continues to gain momentum in establishing the Nextronex brand name outside of Ohio. Mr. Larsen added, "We clearly are searching for the first movers. Those in the solar industry who want to invest in the latest technology while helping move the industry forward should give Nextronex a call. More importantly, our competitively priced 'Made in America' product line strengthens our countries ability to compete around the world."
About Nextronex
Nextronex, Inc. is a manufacturer of non-residential and utility scale solar inverter systems 100 kW and larger. Founded in 2008 the company received initial funding for research and development via private venture capital in Northwest Ohio. The company is focused on solar energy optimization through intelligent balance of systems design for both 600 and 1000 V DC and up to 15,000 V grid connect. For more information about Nextronex, please visit our website at www.nextronex.com.
Related articles:
http://www.ci.toledo.oh.us/Home/News/tabid/393/articleType/ArticleView/articleId/112/Default.aspx
http://www.hometownstations.com/story/14966869/a-new-era-in-renewable-energy-in-celina
Featured Product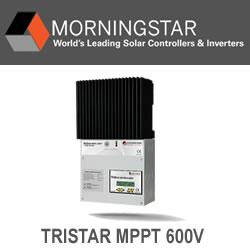 Morningstar's TriStar MPPT 600V charge controller leverages Morningstar's innovative TrakStar™ MPPT technology and our 20+ years of power electronics engineering excellence, to enable the widest input operating voltage range available from a solar array, wind turbine or hydro input. This controller's standard and DB versions are for off-grid applications, and the TR versions were developed to enable retrofitting grid-tied systems with battery backup.