The SGS Solar Test House now offers Desert Dust Testing according to DIN EN 60068-2-68 LC2, which determines the effects of dust and sand, suspended in air, on solar modules. This desert dust test simulates the impact of high-velocity particles and proves the solar module's applicability for desert regions.
Since solar panels are best situated in extremely exposed locations, such as deserts regions, they must withstand sometimes dramatic weather conditions. This means that PV systems must survive combinations of intense heat, cold and humidity, as well as heavy sandstorms, reliably for many years. It is no wonder, then, that stringent certification and testing is a necessity to obtain and protect investment.

Since Spring 2011, the SGS Solar Test House has been providing Desert Dust Testing according to the DIN EN 60068-2-68 LC2 standard, which is designed to examine the behavior of wind and sandstorms impacting PV modules.
In order to determine the effects on solar panels of dust and sand suspended in air, the Solar Test House simulates the erosion effects of high-velocity sand particles within dust chambers. Pulses of compressed air are blown through a manifold located in the bottom of a collection trough, forcing dust up and over the solar module.
The German solar manufacturer SOLARWATT was among the first companies to pass the heavy sandstorm endurance test. The test showed that SOLARWATT modules are eminently suitable for use in desert areas. Since the same kinds of PV panel technology from different manufacturers suffer in completely different patterns, the SGS Desert Dust Test helps to select the right panel technology for a particular type of application and location.
About SGS Solar Test House
Located in the 'Solar Valley of Central Germany', the Solar Test House has been in the SGS Group's portfolio since February 25, 2009. The service concept of the SGS Solar Test House not only concerns the testing and certification of photovoltaic modules in accordance with the most important standards, such as IEC 61215, IEC 61646 and IEC 61730-1/2, but also covers the entire value chain process.
For more information on SGS Desert Dust Testing, please contact:
SGS Germany GmbH
Jörn Brembach
Business Manager Photovoltaics, Solar Test House
Zeisigweg 13
D-01737 Kurort Hartha
t: + 49 35 203 3909 10
Email: cts.media@sgs.com
Website: www.sgs.com/solar
SGS is the world's leading inspection, verification, testing and certification company. SGS is recognized as the global benchmark for quality and integrity. With more than 67,000 employees, SGS operates a network of over 1,250 offices and laboratories around the world.
Featured Product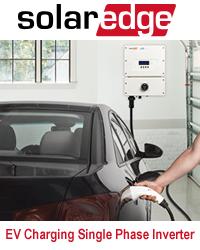 The SolarEdge PV inverter combines sophisticated digital control technology with efficient power conversion architecture to achieve superior solar power harvesting and best-in-class reliability. The fixed-voltage technology ensures the solar inverter is always working at its optimal input voltage over a wider range of string lengths and regardless of environmental conditions. A proprietary data monitoring receiver has been integrated into the inverter and aggregates the power optimizer performance data from each PV module. This data can be transmitted to the web and accessed via the SolarEdge Monitoring Portal for performance analysis, fault detection and troubleshooting of PV systems.