A veteran industry executive from Saint-Gobain addresses how a growing solar sector in the U.S. and other regions will impact industry players in a newly released (Q&A) video available at http://www.youtube.com/watch?v=bj7FvehOHvQ
September 15, 2011 – With the unprecedented growth of the United States solar industry in 2010 likely to continue, energy providers and their suppliers are still decoding the boom's impact on their long-term goals and bottom line. A veteran industry executive from Saint-Gobain confronts these issues in a newly released question and answer (Q&A) video format and offers guidance on the steps solar industry players must take to remain competitive.

According to Janaki Weiden, Global Market Manager, SOLGLIDE®, the recent – and in some cases, rapid – growth of the solar industry in the US, Asia, parts of South and Central America, and the Middle East and North Africa (MENA) region is increasing competition among solar energy producers and their suppliers as the influx of industry players places downward pressure on pricing per watt.
To remain competitive, these companies must reduce costs. Solar energy producers will rely more heavily on the durability and efficiency of production technologies, so it is imperative that products such as parabolic troughs perform flawlessly throughout their lifetime.
Weiden emphasizes that the way to ensure that solar energy technologies maximize output is through collaborative design. He discusses Saint-Gobain's own collaborative approach to designing custom solutions for Engineering, Procurement and Construction (EPC) contractors and structure suppliers, citing the company's research and development (R&D) capabilities and global presence as key factors enabling anticipation of upcoming market trends when designing custom solutions.
He urges that members of the value chain must come together early in the design process to determine what needs should be addressed both in the short-term and long-term scope of Concentrated Solar Power (CSP) and photovoltaic (PV) developments. Having multiple perspectives and a broader understanding of the industry's direction is essential to designing effective long-term innovations.
"Market and customer insight are playing a key role here," Weiden said. "These will enable suppliers to [the solar] industry to create cost-efficient and sustainable solutions at the same time...products have to be durable and long-lasting to withstand a physically dynamic environment. This will then have a positive impact on the maintenance cost [of CSP and PV solution-like tracking systems]."
Even small components can be critical to enhancing the performance and minimizing the costs of larger solar technologies. Weiden references the company's recently launched SOLGLIDE® T and SOLGLIDE® M families of bearings as examples of components that can have a significant impact on the efficiency of larger technologies. Both lines of bearings reduce friction and wear by 50 percent compared to other models on the market to maintain the tracking performance of actuating systems over the lifespan of the equipment.
To view the video, click here: http://www.youtube.com/watch?v=bj7FvehOHvQ
About Saint-Gobain
Saint-Gobain is a global leader in the design, production and distribution of innovative, high performance materials for industry and employs nearly 190,000 people. With operations in over 64 countries, Saint-Gobain is the 60th largest employer and among the top 50 global industrial companies worldwide. Saint-Gobain is listed on the stock exchanges of Paris, London, Frankfurt, Zurich, Brussels and Amsterdam. Saint-Gobain's global strategy is focused around three core markets: Construction Products, Innovative Materials, and Building Distribution; and, the company is committed to play a leading role in developing energy efficient innovations for the housing and construction sectors, protecting the environment, and managing growth in a sustainable fashion.
With 15 sites and six R&D centres globally, the Bearings and Tolerance Rings Group, a division of Saint-Gobain Performance Plastics, provides 'engineer-to-engineer solutions-in-motion' to high volume international OEMs in the automotive, leisure, energy, industrial, and other markets. Backed by a heritage of product innovation, technology, advanced materials and market leadership, they are dedicated to working with customers using their extensive engineering expertise to deliver standard and custom solutions in NORGLIDE® bearings, RENCOL® tolerance rings, SOLGLIDE® bearings, JOINSHIM® rings, and NORSLIDE® cable liners that meet the most demanding applications. For further information, please visit: www.bearings.saint-gobain.com
# # #
Featured Product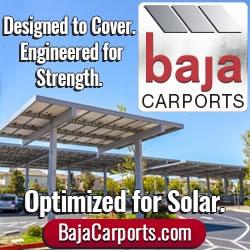 Baja Carports offers an extensive solar support system product line customized to customers' site specifications by in-house engineers, meeting their parking lot coverage, plus optimal PV production needs. Baja's Full Cantilever Tee is often paired with its Semi and Full Cantilever carports to meet live/loads up to 60psf and wind speeds to 160mph. All Baja products are pre-fabricated, bolted connections, pre-galvanized structural steel for fast on-site installation and project aesthetic requirements."