The Fuel Cell and Hydrogen Energy Association (FCHEA) announced today a new Affiliate Partnership with the Fuel Cell Seminar & Exposition (FCS&E) for this year's event in Orlando, Florida on October 31st – November 3rd.
September 21, 2011 - Columbia, SC – The Fuel Cell and Hydrogen Energy Association

(FCHEA) announced today a new Affiliate Partnership with the Fuel Cell Seminar & Exposition
(FCS&E) for this year's event in Orlando, Florida on October 31st – November 3rd.
"The Fuel Cell Seminar and FCHEA have established a solid working partnership through our
new MOU. It commits both organizations to a high level of cooperation in promoting faster
growth and expansion of the fuel cell industry and its entire enterprise value chain," said Sam
Logan, President of the FCS&E and CEO of LOGANEnergy.
Morry Markowitz, Executive Director of FCHEA, echoed Mr. Logan's sentiments by saying,
"The 2011 Fuel Cell Seminar & Expo provides an excellent focal point for the industry to
collaborate on fuel cell research, hear of the latest developments, build relationships, and
further advance the commercialization of these technologies." FCHEA will be exhibiting in
Booth # 206 Tuesday – Thursday.
"I am delighted to see the FCHEA (Affiliate) partnership in the 2011 Fuel Cell Seminar &
Expo," said Bruce Cole, President of McNabb Marketing Resources and Expo Hall Manager for
the 2011 FCS&E. "This brings together the leading industry trade organization with the
leading conference and trade show. It is critically important at this point in time for the
industry to speak with one voice."
The 2011 Fuel Cell Seminar & Exposition will be held October 31st-November 3rd, 2011 at the
Walt Disney World Swan and Dolphin Resort in Orlando, Florida, USA. The 2011 conference,
Fuel Cells: Today's Clean, Safe and Sustainable Energy, expands on the mission to advance
global energy, environmental, and economic benefits offered by fuel cell technology. This
year, the FCS&E is incorporating for the first time a "Customer Day" which will educate
potential end-users of hydrogen and fuel cells. There will also be a focused program on
hydrogen fuel cells slated for Thursday, November 3rd. Other featured activities will include
the popular, "Women in Fuel Cells" luncheon with guest speaker Britta Gross of GeneralMotors, educational short courses and an industry reception in addition to world class
technical and markets focused conference tracks.
About the Fuel Cell and Hydrogen Energy Association
The Fuel Cell and Hydrogen Energy Association (FCHEA) is the world's premier advocacy
organization dedicated to the commercialization of fuel cells and hydrogen energy
technologies. FCHEA and its membership are at the forefront of efforts to transform the
energy network, fundamentally altering the way energy is generated and used. Fuel cells and
hydrogen technologies are being commercially deployed today to solve critical problems in our
energy infrastructure and deliver clean, reliable power to leading edge corporate, academic
and public sector users. FCHEA's membership represents the full spectrum of the supply
chain from universities, government laboratories and agencies, trade associations, fuel cell
materials, components and systems manufacturers, hydrogen producers and fuel distributors,
utilities and other end users.
For more information, please visit http://fchea.org/.
About Fuel Cell Seminar and Exposition
The Fuel Cell Seminar & Exposition is one of the largest international conferences of its kind,
boasting an extensive Technical Program and Exposition. The conference attracts over 1,000
attendees annually and offers the largest number of technical papers, the most exhibits and
the best coverage of the latest technical advances and research in the field.
International participants include technical leaders, scientists, educators, researchers,
developers, inventors, students and manufacturers of fuel cell products from more than 25
countries.
Technical sessions focus on four main areas: High Temperature R&D and Fuel Processing;
Low Temperature R&D, Hydrogen R&D, and Fuel Cell Testing and Modeling; Demonstrations
and End-User Perspectives; and Commercialization and Global Overviews. Challenges in costs,
fuels, storage, reliability, lifetime and adoptability are also covered. FCS&E attendees,
sponsors and exhibitors represent the latest in leading research and development--both
domestically and abroad.
For more information, please visit www.fuelcellseminar.com/ or email
fuelcellseminar@schydrogen.org.
Featured Product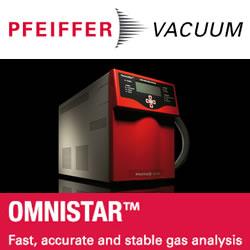 The Pfeiffer Vacuum OmniStar benchtop analysis system offers you a compact footprint, powerful software and Ethernet connectivity. It's the optimum solution for many real-time gas analysis applications. With the OmniStar, Pfeiffer Vacuum offers you a complete solution for gas analysis, in chemical processes, semiconductor industry, metallurgy, fermentation, catalysis, laser technology and environmental analysis. The turnkey OmniStar gas analysis system consists of heated, temperature-regulated gas inlet system, Quadrupole mass spectrometer, a dry diaphragm vacuum pump and HiPace turbopump. Unlike competing methods such as FTIR, OmniStar is suitable for qualitative and quantitative analysis of most gases.