Solar Industry Veteran joins EchoFirst
FREMONT, Calif., SEPT 27, 2011 –Today EchoFirst®, the creator of Echo®, a revolutionary new solar energy system that delivers twice the energy of a basic solar electric (PV) system, named Charles Ferer as the company's president. In this role, Ferer will focus on growing EchoFirst's core business: the design, manufacture, marketing, distribution and deployment of its patented Echo solar system.

Most recently, Mr. Ferer was President of Sungevity, where he was responsible for corporate development, the contractor network, finance, accounting, legal affairs, and human resources. During his tenure there, Ferer grew Sungevity revenue by a factor of 12x. Ferer's outstanding achievements include establishing Sungevity's consumer channel relations with Lowe's, and developing a multi-year e-commerce and in-store presence. Prior to working with Sungevity, Ferer served as chief financial and administrative officer at SolarCity, where he helped raise over $60M in tax equity and launched the firm's successful solar leasing program.
"Charles Ferer is a powerful addition to the EchoFirst team," said Vikas Desai, CEO of EchoFirst Inc. "He is a seasoned business leader with a track record of success, inside and outside the solar industry. The Echo solar system is changing the game in solar energy, and Charles is the perfect fit to help us continue to grow EchoFirst into one of the most successful renewable energy technology companies in the U.S."
Mr. Ferer has more than 20 years of experience, working at blue chip corporations, including Gap and PepsiCo. He earned his B.A. in Economics from the University of Puget Sound, and an MBA in Finance from Indiana University.
About EchoFirst Inc.
EchoFirst Inc. designs, manufactures, and markets the Echo solar system. Echo supplements conventional solar electric PV panels with a unique solar thermal technology that captures the heat from the PV panels. Echo generates not only electricity, but also hot water for washing and bathing, and thermal energy for home heating and home cooling. EchoFirst headquarters are in Fremont, California. For more information, please visit www.echofirst.com.
Contact: Susan DeVico (510) 339-1527 SusanDV@aol.com
Featured Product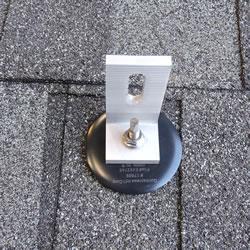 SolarRoofHook's Low Profile QuickBOLT with Microflashing™ is the industry's affordable, UL Certified Asphalt Shingle mounting system. The Microflashing™ is compressed by the collar on the bolt to create a water-tight seal. With an installation time of less than one minute, the Low Profile QuickBOLT allows installers to complete more jobs.