New separator technology dramatically boosts rechargeable battery performance
Kalamazoo, Mich., Sept. 20, 2011—CMA Group, based in Kalamazoo, Mich., has partnered with DreamWeaver International of Greenville, S.C., to support marketing and business development efforts for DreamWeaver's revolutionary battery separator technology.

Separators are a critical component in a typical rechargeable battery because their properties have a direct impact on battery performance, including the battery's energy and power densities, cycle life, and safety. DreamWeaver's innovative, cost-neutral separator leverages a patented nanofiber technology, combined with a versatile manufacturing process that dramatically improves the performance of rechargeable batteries. Initial test results have shown the DreamWeaver separator to increase battery power by up to 300 percent, energy density by over 20 percent, and reduce internal resistance by up to 65% —allowing for thinner, lighter weight, and lower cost battery systems.
Battery separators are typically non-woven, micro-thin films made from polyolefins. Their main function is to keep a battery's positive and negative electrodes apart so that ions can move from the positive electrode (cathode) to negative electrode (anode). This flow of ions generates an electric current that can power small electronic devices like laptops, and PDAs to large motors that drive electric and hybrid-electric vehicles.
"CMA Group is grateful for this opportunity to work with DreamWeaver International. Their disruptive technology has the potential to greatly expand battery usage, especially in the electric vehicle segment, by increasing efficiency and affordability," said Sarah Gillig, Director of Communications at CMA Group. "The technology will ultimately help reduce oil consumption and GHG emissions. " she added.
Brian Morin, President and COO, at DreamWeaver, said, "We are excited about our relationship with CMA Group, as it provides DreamWeaver a critical presence on the ground in Michigan. Michigan is home to rechargeable battery manufacturing sites for many of our targeted customers, and is also global headquarters for several of these same companies."
Morrin added, "The Michigan presence will allow us to deliver the level of service and support our customers need and deserve."
About CMA Group
CMA Group, LLC, is based in Kalamazoo, Mich., and assists clients with marketing strategy, innovation, and business development. The company supports front-end strategy development, while simultaneously assisting tactical implementation efforts. For additional information contact Sarah Gillig (269-823-3755)
About Dreamweaver
DreamWeaver International, Inc. is an early stage development company, headquartered in Greenville, SC, that will use disruptive nanofiber technology in a versatile manufacturing process to improve rechargeable battery performance. www.dreamweaverintl.com
Featured Product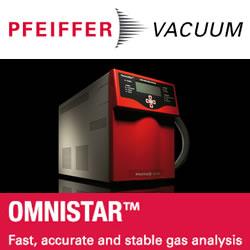 The Pfeiffer Vacuum OmniStar benchtop analysis system offers you a compact footprint, powerful software and Ethernet connectivity. It's the optimum solution for many real-time gas analysis applications. With the OmniStar, Pfeiffer Vacuum offers you a complete solution for gas analysis, in chemical processes, semiconductor industry, metallurgy, fermentation, catalysis, laser technology and environmental analysis. The turnkey OmniStar gas analysis system consists of heated, temperature-regulated gas inlet system, Quadrupole mass spectrometer, a dry diaphragm vacuum pump and HiPace turbopump. Unlike competing methods such as FTIR, OmniStar is suitable for qualitative and quantitative analysis of most gases.