Peter Nieh, Managing Director of Lightspeed Ventures believes that the reaction to Solyndra's bankruptcy was overblown – as their investment Stion goes from strength to strength.
Amongst the doom and gloom of Solyndra's collapse, a bright spot was seen in Mississippi earlier this month. Thin film start-up Stion cut the ribbon on its 100MW manufacturing factory in Hattiesburg and will see the first production of their CIGS modules begin later this year. The National Renewable Energy Laboratory also verified 14.1% efficiency for the company's production scale (65cm x 165cm) thin film circuits. These milestones mark the progress of a company founded in 2006, and vindicate the investment of its backers – one of which is Lightspeed Venture Partners.

Peter Nieh, one of the founders of Lightspeed, told PV Insider that he believes that Stion will rise to the challenge of competing with First Solar. "Lots of money has been invested into other thin-film companies with the aim of creating a company that could compete with and even beat First Solar. And I believe a few will get there; we are involved with a company called Stion that we are confident will get there in the near term." Over the next six years, it is expected that the company will provide over 1000 jobs.
In Nieh's opinion, the Solyndra case is being used by many to "slam the thin film industry", and support claims that "the solar industry is going to be owned by the Chinese, etc.," which is a big overreaction. But why didn't Solyndra succeed? "The reason is that the fundamental design of their product was too complicated, was not prone to high yields, and would not therefore be cost-competitive. I don't know exactly what their dollars-per-watt were, but my understanding was that they around three dollars per watt, and it's just completely not competitive."
Climbing to the top of the thin film industry means getting competitive with First Solar – a daunting prospect for any start-up. Nieh is optimistic, however, that the market conditions for PV give companies such as Stion a good chance of competing effectively. "The industry is growing, and I don't think that any vendor can supply the needs of a whole industry just in terms of capacity," stated Nieh. "Also, different solar products are good for different applications… So because there is market segmentation, the different products of the various vendors will apply best to different market applications, so that will help deter monopoly."
It is unquestionable that the thin film industry has taken a hit in recent months, with the realities of the market hitting home once again. But Nieh believes that the market will bounce back, and the US will be able to take up a leadership role within the industry. "I think American ingenuity will produce winners in the thin film industry," said Nieh. "The US time and time again has shown the ability to innovate where the path is ambiguous and risks need to be taken in order to create technology disruption. I think we'll see a handful of other folks emerge that compete successfully with First Solar, and then even leapfrog them." Progress for companies such as Stion indicates that the future for thin film is not as gloomy as some are suggesting.
To read the full PV Insider interview with Peter Nieh, go to http://www.pv-insider.com/thinfilmusa/lvp.shtml
Featured Product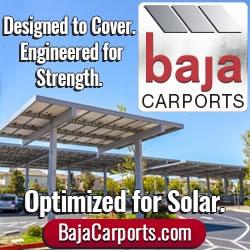 Baja Carports offers an extensive solar support system product line customized to customers' site specifications by in-house engineers, meeting their parking lot coverage, plus optimal PV production needs. Baja's Full Cantilever Tee is often paired with its Semi and Full Cantilever carports to meet live/loads up to 60psf and wind speeds to 160mph. All Baja products are pre-fabricated, bolted connections, pre-galvanized structural steel for fast on-site installation and project aesthetic requirements."