Schletter's FS System has qualified to be Classified with the ETL Listed Mark. Passing complete mounting system grounding requirements, the company will begin marking FS Systems with the Intertek ETL Listed CM Mark in the coming weeks.
October 5, 2011 Tucson, AZ — Schletter Inc., a U.S. manufacturer of solar photovoltaic (PV) mounting systems, announces that its world renowned FS System passed test requirements to be identified as Classified with the ETL Listed Mark.

Intertek©, the issuing organization of the ETL Listed Mark, engaged in extensive system testing in order to qualify the system in its entirety, including all components. Photovoltaic mounting (racking) systems sold under the FS System module number now comply with the standard for safety under UL-1703, CAN/ULC-ORD-C1703, and UL-Subject-2703. Schletter will begin producing the FS Systems with the ETL Listed Mark in the early part of November, 2011.
Used primarily for utility-scale and large commercial solar PV installations, the FS System is used in some of the world's largest solar PV systems, including a 150 MW Mesquite Solar 1 PV power plant in Maricopa County, Arizona. "Used in combination with our ETL Listed Rapid2+ Grounding Middle Clamp we can provide our customers with a completely bonded system," says Wolfgang Fritz, Vice President of Engineering for Schletter Inc. Mr. Fritz goes on to say that "this not only saves time for installers of our systems, it also provides an added level of quality assurance."
For more information on the FS System, visit http://www.fs-system.us. Information on the ETL Listed Mark directory can be found at http://www.intertek.com/directories, keyword Schletter.
About Schletter Inc.
Schletter (www.schletter.us) has designed, developed, and manufactured solar mounting products in the U.S. since 2008, while backed with more than 19 years of solar racking experience from Schletter GmbH. Since opening its United States facility in Tucson, Arizona Schletter Inc has manufactured more than 400 MW of installed PV mounting systems. Schletter Inc. offers products for roof mount and ground mount systems for residential, commercial, and utility scale photovoltaic systems. Schletter Inc. is an independent subsidiary of Schletter GmbH, which operates subsidiaries in eleven countries with more than 1,800 employees worldwide. For more information on Schletter GmbH, please visit www.schletter.de.
Featured Product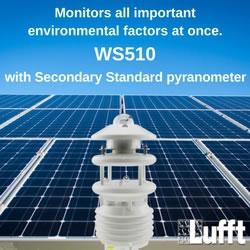 Professional weather sensors form the heart of large solar plants supporting their operation and performance. Lufft was the first manufacturer to combine several sensors in one housing, bringing the largest multiparameter weather sensor family with 19 members into being. Many of them are well-suited for solar site assessment and continuous monitoring. The most commonly used one is the WS600 delivering data on temperature, air pressure, wind, relative humidity and precipitation. Through its open protocol, it can easily be attached to radiation sensors e.g. from Kipp&Zonen. Other models have an integrated Silicon, Second Class or Secondary Standard radiation sensor.