PPC and Siemens collaborate on a pioneering Smart Water Metering pilot for multi-occupancy building
Mannheim, Germany and Manchester, UK 6th October 2011: Power Plus Communications AG (PPC), the leading provider of Broadband Powerline Communication systems (BPL) for smart metering and smart grids working with Siemens Metering, Communications & Services (MCS), the UK's leading independent meter services provider, today announced the successful completion of a pilot installation in the 'Chips' Apartments, Manchester, for the purpose of remotely reading all water meters in the building.

PPC and Siemens have combined their respective skills to deploy a pilot project designed to demonstrate the full capabilities of PPC's state-of-the-art communications technology for smart metering. Siemens currently provides conventional and AMR meter data collection services to two of the UK's larger water utilities, reading AMR data from meters of multiple manufacturers. During the project, AMR water meters, with 868MHz wireless M-Bus, short range radio interfaces, when combined with PPC's Broadband Powerline technology were able to ensure a fast, cost-efficient and highly secure smart metering solution for multi-dwelling houses. With PPC's BPL solution, the broadband transfer of IP data takes place over the existing cables and is the ideal solution for setting up a communication infrastructure for smart metering. It increases the reliability and stability of the metering system, allowing Siemens to achieve readings for 100 per cent of its meters at all times, in near real-time.
This modern communications technology fulfils regulations and ultimately drives down costs while the scalability of the solution facilitates easy extension for the future addition of other fuel meters, as well as the effective integration of renewable energy into the grid.
Ian Sykes, from Siemens MCS global headquarters Product Group stated "This pilot demonstrates the ability of the technology to help UK water utilities move from conventional metering to a Smart Infrastructure and we are exploring this technology with PPC, for potential inclusion in our comprehensive portfolio."
"PPC are extremely happy to be working with Siemens Metering, Communications & Services (MCS) and see this as a further endorsement of our technology and capabilities. This project will allow PPC to further expand our client portfolio and we look forward to working on further smart metering projects with Siemens, says Eugen Mayer, COO at PPC.
Featured Product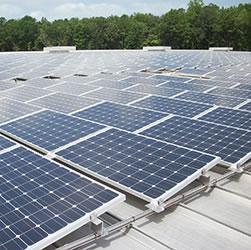 The Power Rail™ Commercial Mounting System is designed with the professional PV solar installer in mind. Both the XD/UD and LD/MD rails feature single tool assembly with the revolutionary patented RAD™ Lock-in-Place bolt for fast and secure module clamping. The high strength marine-grade aluminum rails include an integral wiring channel for securing cables and providing a professional finish.