CommercialAC Integrates Specially Designed Solar Module with New Three-Phase Sequenced Inverter Technology – Check It Out at Solar Power International 2011 in Booth #2516
SAN RAMON, Calif.—October 12, 2011—Canadian Solar, Inc., (the "Company," "we" or "Canadian Solar") (NASDAQ: CSIQ), one of the world's largest solar companies, today launched its Intelligrated™ Power module series.

Intelligrated Power integrates the intelligence of panel electronics with specially-designed modules to deliver state-of-the-art features that maximize system performance, simplify installation and improve safety, significantly reducing cost of design and installation. The first product in the line, CommercialAC, integrates module and inverter into one high-performing module that dramatically simplifies commercial system design and installation. Beginning with CommercialAC, the complete Intelligrated Power product offering will eventually support all market segments. Canadian Solar is unveiling Intelligrated Power's CommercialAC at the Solar Power International 2011 conference in Dallas on October 17-20.
"The global solar market demands constant innovation and improvement of technology, performance, pricing and safety. Our Intelligrated Power CommercialAC module introduces a new technology that meets and exceeds current commercial solar market demands," said Dr. Shawn Qu, CEO of Canadian Solar.
CommercialAC
CommercialAC is the first three-phase grid-ready AC solar module and inverter combination designed specifically for commercial installations. Integrating Canadian Solar's specially designed solar module with the new sequenced inverter technology, the AC module dramatically simplifies system design – with no need for central or string inverter, or module and string sizing.
Built with new hot spot suppression technology that eliminates diodes, the rugged inverter components are more reliable and durable than standard microinverters. CommercialAC is inherently safe with no high-voltage DC and no arc faulting. The "plug and play" module simplifies design and on-the-spot system modifications reducing the need for highly skilled labor while at the same time providing cost savings on design, labor and balance of system.
The CommercialAC module and sequenced inverter are covered by Canadian Solar's industry-leading 25-year warranty. In addition, CommercialAC is "double protected" by matching warranty insurance underwritten by A.M. Best-rated insurance carriers.
Intelligrated Power CommercialAC modules will be available in early 2012 and on display at Solar Power International. Visit Canadian Solar booth #2516 in Hall C for a sneak peek of the new CommercialAC modules.
Follow @Canadian_Solar on Twitter for news and announcements from SPI 2011. Help spread the word: "@Canadian Solar to Introduce #IntelligratedPower Product Featuring New CommercialAC Module at #SPIConvention."
Upcoming Activities at SPI Convention 2011
Please visit the Canadian Solar booth at Solar Power International, take and tweet a photo of yourself with the new CommercialAC and #IntelligratedPower and #SPIConvention hashtags to be entered into a contest to win an iPad 2.
Canadian Solar CEO Dr. Shawn Qu will be presenting on the "Expanding Residential Solar Markets" panel on Thursday, October 20, from 10:30 a.m. to noon in Room C144. Dr. Qu will offer a global perspective on residential solar markets, including an assessment of market potential in various countries and the challenges and opportunities facing current and emerging residential solar leaders such as Japan and the United States.
For more information on the Solar Power International 2011 agenda, please visit http://www.solarpowerinternational.com/2011/public/Content.aspx?ID=1194#/concurrent-sessions/.
About Canadian Solar Inc. (NASDAQ: CSIQ)
Canadian Solar, Inc. is one of the world's largest solar companies. As a leading vertically integrated provider of ingots, wafers, solar cells, solar modules and other solar applications, Canadian Solar designs, manufactures and delivers solar products and solar system solutions for on-grid and off-grid use to customers worldwide. With operations in North America, Europe and Asia, Canadian Solar provides premium quality, cost-effective and environmentally-friendly solar solutions to support global, sustainable development. For more information, visit www.canadiansolar.com.
U.S. offices: 12657 Alcosta Blvd, Suite 130, San Ramon, CA 94583
Telephone: 1-925-866-2700
Fax: 1-925-866-2704
Contact Information for Canadian Solar
Investor Relations
Ed Job, IR Director
Tel: +86-512-6690-8088 x66525
ed.job@canadiansolar.com
David Pasquale
Global IR Partners
Tel: +1-914-337-8801
csiq@globalirpartners.com
Media Relations
Jill Hansen
Tel: +1-925-866-2700
jill.hansen@canadiansolar.com
# # #
Safe Harbor/Forward-Looking Statements:
Certain statements in this press release are forward-looking statements that involve a number of risks and uncertainties that could cause actual results to differ materially. These statements are made under the "Safe Harbor" provisions of the U.S. Private Securities Litigation Reform Act of 1995. In some cases, you can identify forward-looking statements by such terms as "believes," "expects," "anticipates," "intends," "estimates," the negative of these terms, or other comparable terminology. Factors that could cause actual results to differ include the risks regarding the previously disclosed SEC investigation, as well as general business and economic conditions and the state of the solar industry; governmental support for the deployment of solar power; future available supplies of high-purity silicon; demand for end-use products by consumers and inventory levels of such products in the supply chain; changes in demand from significant customers; changes in demand from major markets such as Germany; changes in customer order patterns; changes in product mix; capacity utilization; level of competition; pricing pressure and declines in average selling prices; delays in new product introduction; continued success in technological innovations and delivery of products with the features customers demand; shortage in supply of materials or capacity requirements; availability of financing; exchange rate fluctuations; litigation and other risks as described in the Company's SEC filings, including its annual report on Form 20-F filed on May 17, 2011. Although the Company believes that the expectations reflected in the forward looking statements are reasonable, it cannot guarantee future results, level of activity, performance, or achievements. You should not place undue reliance on these forward-looking statements. All information provided in this press release is as of today's date, unless otherwise stated, and Canadian Solar undertakes no duty to update such information, except as required under applicable law.
Featured Product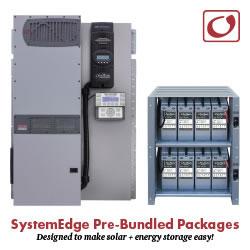 Each pre-bundled package is designed to make solar plus energy storage easy. By combining OutBack's most popular FLEXpower pre-wired systems with matched OutBack energy storage, SystemEdge takes the guesswork out of installing solar plus storage. Every SystemEdge package includes a FLEXpower factory pre-wired system, application-specific EnergyCell batteries and racking, FLEXware ICS Plus combiner and all the necessary connection hardware.