Organic winery furthers commitment to environmental stewardship with installation of large-scale solar power system
EUGENE, Ore.--(BUSINESS WIRE)--King Estate Winery, an Oregon producer of Pinot Gris and Pinot Noir, is teaming up with SolarCity, a national leader in solar power design, financing, installation, monitoring and energy efficiency services, as well as Lane Electric Co-op, and Advanced Energy Systems to install the largest solar power system at a winery in the Pacific Northwest. Construction on the King Estate 973.84 kilowatt (kW) solar system is slated to begin this month.

This King Estate solar power system is a collaboration between several partners: Advanced Energy Systems, which developed the project; SolarCity, which provided financing and integration support; and Lane Electric as the utility partner. The system's 4,144 solar panels are expected to eliminate more than 38 million pounds of carbon dioxide over the next 25 years. This amount is equivalent to the annual greenhouse gas emissions from 3,381 passenger cars or 1.9 million gallons of gasoline.* The King Estate solar power system is large enough to offset the annual power usage of approximately 100 residential homes.*
"Our philosophy is rooted in sustainable agriculture and environmentally-conscious business practices, as evidenced by our dedication to organic farming. Installing a large-scale solar power system is a natural progression for us," said Ed King, CEO & co-founder of King Estate. "With SolarCity and Lane Electric's support, we are able to demonstrate to the wine industry that sustainable practices are not only environmentally sound, but also make business sense."
"King Estate is a true leader in sustainable and organic agriculture," said Rob Lavigne, SolarCity's regional director in Oregon. "By collaborating with multiple partners, we are trying to do our part in making clean energy an affordable option for businesses committed to protecting the natural environment."
Lane Electric Co-op is also exploring the potential for incorporating additional solar, wave, geothermal, landfill gasification and other green resources into their resource portfolio. These resources will help solidify Lane Electric's future power supply needs and assist them in meeting the State of Oregon's Renewable Portfolio Standards.
"The idea of renewable energy is not at all new for Lane Electric. This project is very exciting in that it dovetails perfectly with Lane Electric's mission and vision for renewable energy as we look to the future. It is good for our members, the co-op and the environment," notes Rick Crinklaw, general manager for Lane Electric.
Visitors can check out the solar system for themselves and sample King Estate's critically acclaimed wines by visiting the tasting room 20 miles southwest of Eugene, Ore. Location and directions are available at www.kingestate.com.
*Based on estimates from the Environmental Protection Agency
About King Estate Winery
Founded in 1991 by the King family, King Estate Winery is the leading producer of premium and ultra-premium Pinot Gris, as well as the largest winery in Oregon. Their 1,033 acre certified organic estate is 20mi SW of Eugene, OR and is home to the world's largest contiguous organic vineyard. A true model for eco-friendly wine growing, King Estate utilizes sheep and birds of prey in their farming, grows 30 acres of fruits and vegetables for their estate restaurant, and provides refuge for a host of native wildlife. King Estate's acclaimed Pinot Gris and Pinot Noir are available at fine restaurants and retailers nationwide. For more information about King Estate Winery, visit www.kingestate.com or contact Sasha Kadey at 541-942-9874.
About SolarCity
SolarCity®—a national leader in solar power design, financing, installation, monitoring and energy efficiency services—was founded with the mission to help millions of homeowners and businesses adopt clean power, protect themselves from rising gas and electricity costs and protect their environment from polluting power sources. The company's SolarLease® and Power Purchase Agreement (SolarPPA™) options can make it possible for homeowners and businesses to switch to clean, solar power for less money than they currently pay for electricity. SolarCity's 24 operations centers serve Arizona, California, Colorado, Hawai'i, Maryland, Massachusetts, New Jersey, New York, Oregon, Pennsylvania, Texas and Washington, D.C. Additional information about the company is available on the web at www.solarcity.com.
About Lane Electric
Lane Electric Co-op (LEC) is a rural electric distribution cooperative, located in Eugene, OR. Their primary mission is to provide safe, reliable and economical electric service to their members across Lane County. It is one of 18 rural electric cooperatives in the state of Oregon. LEC is committed to the research, development and promotion of renewable energy resources and their members' increasing interest in renewable energy.
Learn more about Lane Electric at www.laneelectric.com.
About Advanced Energy Systems
Advanced Energy Systems LLC, headquartered in Eugene, OR, is distinguished as the leading Oregon-based solar energy facilities developer and contractor. Over the last decade, the company has installed several megawatts of solar power capacity throughout the State, including the unique 'Oregon Solar Highway'. With several dozen installations built for public and private entities, and many more for residential customers, Advanced Energy Systems delivers turn-key photovoltaic and solar thermal projects that enable clients to invest in clean energy garnering positive returns for themselves, their community, and the environment. For more information about AES please contact Eric Nill or Craig Strobeck at 541-683-2345 or visit www.AESrenew.com and aesrenew.blogspot.com.
Featured Product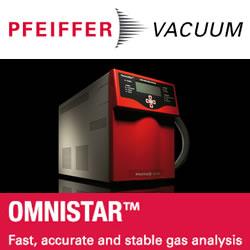 The Pfeiffer Vacuum OmniStar benchtop analysis system offers you a compact footprint, powerful software and Ethernet connectivity. It's the optimum solution for many real-time gas analysis applications. With the OmniStar, Pfeiffer Vacuum offers you a complete solution for gas analysis, in chemical processes, semiconductor industry, metallurgy, fermentation, catalysis, laser technology and environmental analysis. The turnkey OmniStar gas analysis system consists of heated, temperature-regulated gas inlet system, Quadrupole mass spectrometer, a dry diaphragm vacuum pump and HiPace turbopump. Unlike competing methods such as FTIR, OmniStar is suitable for qualitative and quantitative analysis of most gases.