1. Singapore, 12th October 2011 – The world needs a new source of renewable energy. The spotlight is on Africa, with her huge potential for biomass and bioenergy. Biomass West & Central Africa Congress 2011 will kick off from 24th to 25th November 2011 Accra, Ghana.
2. This timely international biomass congress will be officiated by Honorable Dr Joe Oteng-Adjei, Minister of Energy, Republic of Ghana.

3. The congress will be attended by both government and private industry stakeholders, with confirmed delegations from Ghana, Benin, Cameroon, Ivory Coast, Mali, Nigeria, South Africa, Congo, USA, UK, Finland, The Netherlands, Togo & Cape Verde.
4. This congress will address critical issues including the export of wood pellets to Europe, changing market structure & sustainable certified supplies. The socio-economic structure of rural communities, rural electrification and forestry policies will also be discussed.
5. Distinguished panel of speakers are drawn from ECREE, Energy Commission of Ghana, Africa Renewables, World Bank, KNUST, Obafemi Awolowo University, Utrecht University, Abellon Energy, Vivus Renewables, Viaspace, Bionic Palm Limited, ISTA, E.ON Climate & Renewables, Mali-Folkecenter, Department of energy- Oil & Mineral Research-Water & renewable energy development, Benin, Rural Electrification Agency, ARPEDAC, Vaasa University of applied science, ANADER and African Biofuels and Renewable Energy Company
6. When quizzed on the importance of biomass in West & Central Africa region, Mr. Thierno Bocar Tall, Chairman & CEO of African Biofuels and Renewable Energy Company, said: "40% of the population cover 37% of the area where biomass delivers approximatively 80% of energy; forests covering 26.5% of total land and demanding population reaching 996 millions by 2030. Biomass sits at the nexus of a strong potential, opportunities in terms of economic development and improvement of livelihoods." He further added that biomass in west and central Africa region " should grow by 21% by 2015 from $572.9 billion in 2010"
7. Mr Richard Seshie, Managing Director at Vivus Renewables Ghana said "In Africa, project developers' tend to tap into a few readily available biomass sources and ignore crop residues –the biggest source yet – given their high dispersion means traditional transport options that are non-economical. Exploring radically innovative supply chains could be game changing for Africa in order to reach its full promise."
8. Mr Munzer M. Sundos, Chief Business Officer for Viaspace USA, commented "With many of biofuels conferences worldwide, the Biomass West & Central Africa Congress this year is a rare opportunity that truly delivers value. It brings together eminent thought leaders and excellent speaker line up to reveal the biomass opportunities and challenges in future energy and discuss the role Africa could play in EU's 2020 Renewable Energy targets. This important forum is the only event forum in Africa that brings current and future producers of bioenergy products together with crop growers, municipal leaders, utility executives, technology providers, project developers, investors and policy makers to network, build partnerships, and identify and evaluate technical and economic solutions."
9. CEO of Magenta Global, Ms Maggie Tan, applauds the activities of ECREEE & Governments in West & Central Africa in harnessing the potential of biomass. "Biomass offers a huge opportunity for Africa in its move towards energy independence in general and green energy in particular. We invite all project partners and stakeholders to join us in Accra."
10. This Congress is organized by Singapore-based Magenta Global and endorsed by Ghana Investment Promotion Centre (GIPC), with the support of ECOWAS Regional Centre for Renewable Energy and Energy Efficiency (ECREEE), Sustainable Energy Society of Southern Africa (SESSA), Southern African Bioenergy Association (SABA), Renewable Energy and Energy Efficiency Partnership (REEEP)and Southern African Alternative Energy Association (SAAEA).
11. The Congress proceedings will be in both French & English & will be hosted at the Holiday Inn Accra Airport Hotel in Accra, Ghana
Magenta Global Pte Ltd
Media Contact:
Ms Reema Raj
Marketing Manager
DID: +65 6392 2530
Main: +65 6392 2552
Email: r.raj@magenta-global.com.sg
Notes for Editor:
About Magenta Global - Organizer
Magenta Global Pte Ltd is a premier independent business media company that provides pragmatic and relevant information to government & business executives and professionals worldwide. The organization provides the opportunity to share thought-provoking insights, exchange ideas on the latest industry trends and technological developments with thought leaders and business peers. With a strong focus in emerging economies especially in Africa, Middle East & Central Asia, Magenta Global works in partnership with both the public and private sectors. www.magenta-global.com.sg
About Ghana Investment Promotion Centre (GIPC)
The Ghana Investment Promotion Centre (GIPC) is a government agency, re-established under the Ghana Investment Promotion Centre Act, 1994 (Act 478): To encourage, promote and facilitate investments in all sectors of the economy except mining and petroleum We are the one-stop agency that facilitates and supports local and foreign investors in both the manufacturing and services sectors as they seek more value-creating operations, higher sustainable returns and new business opportunities. http://www.gipc.org.gh/home.aspx
About African Bio- Fuels & Renewable Energy Company
The ABREF is being set up to help overcome barriers and facilitate greater flows of
investment into African biofuel and renewable energy projects in such a manner which
promotes sustainable development while at the same time contributing towards the reduction of greenhouse gas emissions in the atmosphere.
About VIASPACE USA
VIASPACE is a clean energy company providing products and technology for renewable and alternative energy that reduce or eliminate dependence on fossil fuels and other high-pollutant energy sources. Through its subsidiaries, the Company provides raw material for cellulosic biofuels; develops and markets fuel cartridges, products and technology for methanol fuel cells; markets rechargeable lithium-ion batteries; and is developing security-related monitoring and detection technology and systems for military/defense and commercial applications. http://www.viaspace.com
About Vivus Renewables Ghana
Vivus Ltd. is a specialist transport provider, a project developer and a trader in the renewable energy and local food industry in Africa.
Vivus promotes the use of re-engineered cargo bikes (bicycles and motorbikes), a missing on-the-field, clean transport solution suitable for the mass micro-collection of agro goods and waste. We then complement this approach with traditional mobility solutions, the smart application of mobile phone technology and innovative business practices to build a pioneering transport + trading infrastructure.
By establishing a national grid of so-called Rural Collection Centres (RCCs) and Rural Clean Energy Conversion Centres (RECCs) dispatched at strategic locations throughout a country, we aim to be a partner of choice in providing services from sourcing, collection, transport to marketing to the benefit of farmers, clients and consumers of both 3 group of commodities.
Featured Product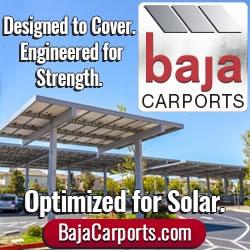 Baja Carports offers an extensive solar support system product line customized to customers' site specifications by in-house engineers, meeting their parking lot coverage, plus optimal PV production needs. Baja's Full Cantilever Tee is often paired with its Semi and Full Cantilever carports to meet live/loads up to 60psf and wind speeds to 160mph. All Baja products are pre-fabricated, bolted connections, pre-galvanized structural steel for fast on-site installation and project aesthetic requirements."