Vertegy International will allow Vertegy to expand its sustainability consulting expertise to other countries overseas
After maintaining a dominant position in the green building industry in the U.S. for the past six years, St. Louis-based Vertegy today announced that it is expanding its focus overseas with a new sister company that will help better serve the rising demand for sustainable project management in the Middle East. The new company, Vertegy International, W.L.L., will be based in Doha, Qatar, where Vertegy has already had a strong presence since 2007. The move will allow Vertegy to capture new business in Qatar and other Gulf Cooperation Council (GCC) countries of Bahrain, Kuwait, Oman, Saudi Arabia and the United Arab Emirates. Like St. Louis-based Vertegy, Vertegy International will focus on LEED/sustainable project administration and training. The new firm is also completing the necessary steps to be able to offer dual certification and is currently in the process of becoming a Qatar Sustainability Assessment System (QSAS) provider, which is a relatively new sustainability rating system in Qatar.

Thomas Taylor, general manager of Vertegy and a long-time Alberici Group executive who founded Vertegy as a subsidiary of Alberici in 2005, will serve as general manager of Vertegy International. Joining him at the helm of the new entity will be founding partner Ghanim Al-Romaihi, who will oversee the daily operations in Qatar. Vertegy International will exist as another subsidiary of Alberici Group and will represent the first time Alberici has established an entity overseas with a sole focus on sustainability consulting and training.
"The establishment of Vertegy International is a sign that the demand for green construction services continues to gain steam as developers around the world recognize the value of sustainable design in large-scale projects," noted Taylor. "We are excited to embark on this new company with Ghanim and look forward to expanding our services in Qatar and throughout other GCC Middle Eastern countries."
As part of Qatar's National Vision 2030 plan, which provides a framework for furthering its economic, social, cultural, and environmental development, the country has been committed to constructing developments and making improvements to its infrastructure with sustainability in mind. Over the past few years, Vertegy has worked alongside Kansas City-based architecture firm Burns & McDonnell to lend its sustainability consulting expertise to world-class LEED facilities in the education, commercial, public and residential sectors in Qatar. Combined, these projects have a total value of almost $2.7 billion and consist of 6.38 million square feet. In the next five years, Qatar will spend $45 billion constructing new hospitality sector developments, and approximately $300 billion will be spent on its infrastructure leading up to the FIFA World Cup, which will be held in Qatar in 2022.
Vertegy, which saw its contract award values jump in the past six years from just over $200,000 in 2005 to $3.4 million in 2010, credits this growth to the work the firm is already doing in Qatar, which makes up a significant percentage of the firm's current business.
"Our experience in Qatar, coupled with the country's demand for sustainable developments, will allow us to lend our sustainable consulting services to many more projects there over the next several years," said Taylor. "We are looking forward to serving the communities in Qatar and are confident we will see the same type of commitment in the other five GCC countries."
Once Vertegy International begins to acquire new business, it has plans to hire experienced staff from Doha and surrounding communities to provide additional support. The new company can be reached at PO Box 39005 in Doha, Qatar, and a new website for the firm is being developed at www.vertegyconsultants.qa. In the meantime, for more information, call 314.733.2666 or visit www.vertegyconsultants.com.
Founded in February 2005, Vertegy provides clients with design, procurement and construction consulting services for green and sustainable facilities. One of the key ways Vertegy serves clients is by helping them gain certification for their projects from various nationally and internationally recognized certification bodies, such as the U.S. Green Building Council (USGBC), which provides LEED (Leadership in Energy & Environmental Design) certification. Vertegy — which is derived from combining the Latin root for green and strategy — is based in St. Louis at the LEED Platinum Alberici Corporate Headquarters.
Featured Product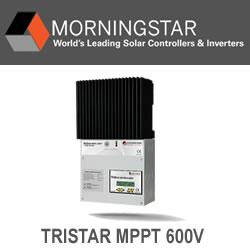 Morningstar's TriStar MPPT 600V charge controller leverages Morningstar's innovative TrakStarâ"¢ MPPT technology and our 20+ years of power electronics engineering excellence, to enable the widest input operating voltage range available from a solar array, wind turbine or hydro input. This controller's standard and DB versions are for off-grid applications, and the TR versions were developed to enable retrofitting grid-tied systems with battery backup.