Sustainable Energy Technology Ltd. today announced that it will roll out its new "PARALEX" line of inverters for residential small commercial and institutional rooftop solar PV systems at Solar Power International in Dallas, Texas October 17 2011. PARALEX is repo
Toronto, Ontario – October 5, 2011 Sustainable Energy Technology Ltd. (TSX-V: STG) ("Sustainable Energy") today announced that it will roll out its new "PARALEX" line of inverters for residential small commercial and institutional rooftop solar PV systems at Solar Power International in Dallas, Texas October 17 2011. PARALEX is reporting peak efficiencies above 97% and 99.8% product reliability.

PARALEX targets an emerging demand for "parallel" solar in higher power ratings which micro-inverters have not been able to meet on a cost effective basis. Even industry giants such as SMA, which reportedly will unveil its own micro-inverter this month, is said to be telling its customers that micro-inverters will not be cost competitive with leading string inverters above 2 kilowatts notwithstanding the performance gains (per: Green Tech Media September 19, 2011).
PARALEX delivers these same performance gains and design flexibility at a cost that is competitive with leading string inverters. PARALEX is the industry's only high efficiency string inverter to enable a parallel system design. The results are simple flexible installations in higher power ratings, which easily accommodate variations in rooftop orientations, partial shading, and increasingly complex fire codes.
"According to IMS Research this will be an annual market worth $1.3 billion by 2015 and the patented PARALEX technology has the potential to take a sizeable share," said Michael Carten, CEO of Sustainable Energy. "Early responses to PARALEX from experienced US and German installers have been very positive. It is clear that the market is looking for a cost effective solution which will accommodate less than ideal conditions. especially in Germany where ideal sites are quickly disappearing."
About Sustainable Energy:
Sustainable Energy (www.SustainableEnergy.com) is a Canadian solar inverter company which supplies Canada, the U.S. and Europe. The Company's patented inverter technologies are a breakthrough in power inverter design and capabilities for all forms of distributed generation and smart grid applications. The PARALEX inverter is the industry's only grid-interactive solar inverter which enables a "parallel" solar PV system architecture in higher power ratings at a cost and serviceability factor that is comparable to conventional inverters in the market. The benefits of parallel solar are: (i) 5% - 25% higher total system power output; (ii) a better fill factor enabling better coverage of available space; (iii) a simplified system design and installation; and (iv) the safety of extra low operating voltages which ensures the safety of building maintenance personnel, first responders, and tradesmen who may accidentally come into contact with system wiring. Sustainable Energy's technologies are the subject of multiple patents issued by and pending with the Canadian and US Patent Offices.
Forward Looking Information
The reader is advised that some of the information herein may constitute forward-looking statements within the meaning assigned by National Instruments 51-102 and other relevant securities legislation. In particular, we include: statements concerning the impact of our technology on solar PV system performance and design flexibility; statements concerning the cost effectiveness of our product and the products of our competitors; and statements concerning demand for products, including outlooks from IMS Research; Forward-looking information is not a guarantee of future performance and involves a number of risks and uncertainties.
Many factors could cause the Company's actual results, performance or achievements, or future events or developments, to differ materially from those expressed or implied by the forward-looking information. Readers are cautioned not to place undue reliance on forward-looking information, which speaks only as of the date hereof.
Readers are also directed to the Risk Factors section of the Company's current Annual Information Form which may be found on its website or at www.sedar.com The Company does not undertake any obligation to release publicly any revisions to forward-looking information contained herein to reflect events or circumstances that occur after the date hereof or to reflect the occurrence of unanticipated events, except as may be required under applicable securities laws.
Neither the TSX Venture Exchange nor its Regulation Services Provider (as that term is defined in the policies of the TSX Venture Exchange) accepts responsibility for the adequacy or accuracy of this release.
Featured Product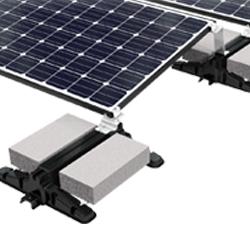 The Power Rail™ Commercial Mounting System is designed with the professional PV solar installer in mind. Both the XD/UD and LD/MD rails feature single tool assembly with the revolutionary patented RAD™ Lock-in-Place bolt for fast and secure module clamping. The high strength marine-grade aluminum rails include an integral wiring channel for securing cables and providing a professional finish.