On November 8-10, the US solar industry will convene in New York for the PV Power Generation Mid-West and East Conference and The Solar Finance and Investment Forum.
Dear Sir/Madam,

A recent report by GTM Research & SEIA shows that the US solar PV market is becoming increasingly fragmented. In 2005, California represented 80% of the U.S. solar market; today, it's only 30%. In 2010, East Coast markets lead by New Jersey, Pennsylvania, Florida and North Carolina, installed more solar than California.
Killing two birds with one stone the US solar industry will meet to discuss how to access multi-megawatt PV opportunities in the Eastern US states whilst meeting with the financial power houses and leading investors of the big apple.
New Jersey's SREC system has been widely hailed by industry experts as the most successful renewable energy subsidy program. With Massachusetts, Maryland and Ohio having copied parts of the plan and New York poised to adopt an almost identical system, interest in the Eastern US is continuing to grow.
Discussing the challenges the market will face going forward and the opportunities for large scale PV plant development, Commissioner Fiordaliso of the NJBPU, the DOE and SEPA will meet with key developers and solar companies including Trina, Nexamp & Iberdrola at the PV Mid-West & East congress.
Staying on for a further day, Wall Street's biggest investors from top VCs and PEs and leading providers of tax equity and debt finance will join to discuss the financial situation for solar companies and projects across the whole of the US.
With 2011 having seen high profile bankruptcies in the form of Solyndra and Evergreen Solar, as well as a spate of mergers and acquisitions, funding and finance of the US solar industry has been thrust into the limelight.
Join Credit Suisse, Bank of America Merrill Lynch, Citigroup, Hudson Clean Energy Partners, CleanPath Ventures at the only solar finance event to be held in the nations financial capital, The Solar Finance & Investment Forum.
Confirmed speakers include:
• Joseph L. Fiordaliso, Commissioner, New
Jersey Board of Public Utilities
• John B. Hanselman, Managing Principal,
Brightfields Development
• Lori Ribeiro, Director of Business
Development, Nexamp
• Kevin P. Harvey, Vice President of Utility
Projects, Mercury Solar Systems
• Dennis Wilson, Vice President, Renewable
Power
• Jamie Hahn, Managing Director, Solis Partners
• Michael Cliggett, Technology Development
Manager, Technology Validation Project ,
U.S. Department of Energy
• Senior Representative, Trina Solar
• Tufan Lokmanoglu, President, Peri Energy
• Lura Matthews, Project lead, U.S.
Environmental Protection Agency
• Mark Warner, Chief Executive Officer, Sun
Farm Network
• Ron Celentano, Solar PV Industry Consultant,
Celentano Energy Services
• Tom Nicholas, Regional Director, Solar
Electric Power Association (SEPA)
• Carrie Cullen Hitt, President, The Solar
Alliance
• Sandra Burton, Regional Director, Solar
Electric Power Association
• Thomas Maslin, Associate Director, IHS
Emerging Energy Research
• Partho Sanyal, Director, Global Energy and
Power Group, Bank of America Merrill Lynch
• Michael Eckhart, Managing Director, Global
Head Environmental Finance & Sustainability,
Citigroup
• John Bartlett, Financial Analyst, Department
of Energy
• Daniel Mallo, Managing Director, Project and
Structured Finance – Energy, Societe Generale
• Andrew Worden, Chairman, Chief Executive
Officer, Barron Partners
• Yuri Horwitz, President and Chief Executive
Officer, Sol Systems
• Raymond Wood, Co-Head Global Alternative
Energy, Credit Suisse
• David Williams, Managing Director and Chief
Risk Officer, CleanPath Ventures
• Jeffrey D. Brown, Vice President - Project
Finance, Summit Power Group
• Senior Representative, Chadbourne & Parke
• Edwin Feo, Managing Partner, USRG Renewable
Finance
• Timothy C. Kim, Renewable Energy &
Environmental Finance, Export-Import Bank of
the United States
• Stefano Sommadossi, Chief Executive Officer,
NextEnergy Capital
• Senior Representative, Capital Stage
• Chris Diaz, Senior Vice President, Seminole
Financial Services
For more information of to register please contact Joe.Kiely@greenpowerconferences.com
Featured Product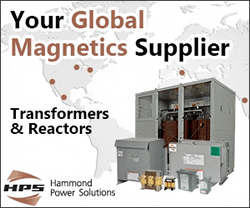 HPS is the largest manufacturer of dry-type transformers in North America. We engineer and manufacture a wide range of standard and custom transformers that are exported globally in electrical equipment and systems. We support solid industries such as oil and gas, mining, steel, waste and water treatment, and wind power generation. HPS leads the industry in these markets through its technical design strength, breadth of product, and manufacturing capabilities, making HPS a stronger company both fundamentally and financially.