NANJING, China, October 11, 2011 -- ET Solar Group Corp. ("ET Solar"), a China-based vertically integrated producer and provider of solar modules and related PV solutions to the global solar market, today announces the completion of a 100 kilowatt commercial rooftop project in the UK using ET Solar modules.
Located in Christchurch, Bournemouth, UK, this project was installed on a dairy barn with a total roof area of over 1200 square meters. It was developed and installed by Engensa Ltd with 440 pieces of 225-watt multi-crystalline modules supplied by ET Solar.

Mr. Dennis She, President and Chief Executive Officer of ET Solar, commented: "This commercial roofing project further solidified our track record and broadens our experience in the growing UK PV roofing market. We are very pleased with our relationship with Engensa, a major national system integrator in the country. We very much look forward to expanding our strategic tie going forward."
About ET Solar
ET Solar is a China-based vertically integrated producer and provider of solar modules and related PV solutions to the global solar market. With local sales and marketing subsidiaries and offices in Asia, Europe, and North America, ET Solar has provided solar modules, turnkey solutions services and PV balance of system components to its customers in over 50 countries. To learn more about ET Solar, visit http://www.etsolar.com.
About Engensa Ltd
Founded in 2009, Engensa is the UK's fastest-growing provider of residential and commercial solar systems. Partnering with the world's leading solar manufacturers, Engensa designs, finances, installs and maintains energy systems. Engensa is privately funded and headquartered in London. For more information, visit www.engensa.com.
Featured Product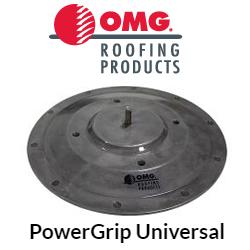 PowerGrip Plus Roof Mount System, a watertight structural attachment system used to secure ballasted solar racks and other equipment to roofs covered with thermoplastic (TPO and PVC) membranes. PowerGrip Plus is designed with wind performance in mind and offers ultimate tensile strength of 2,000 lbf. and ultimate shear strength of 1,075 lbf. Properly installed PowerGrip Plus units reduce rack movement and remaining watertight. PowerGrip Plus units are easy to install, saving both time and labor when compared to alternative options. A wide membrane skirt promotes easy welding in place, and the 15/8 diameter and 1/2 inch tall mount provides an optimal perch for securing brackets or struts. The exposed 1 inch tall and 3/8 inch diameter bolt and mounting stand are made from corrosion-resistant stainless steel and aluminum alloy for superior long-term performance.