Newest addition to company's trusted product line marries strength and simplicity.
San Rafael, Calif., October 17, 2011 – SunLink Corporation today released Core RMS -- the newest addition to the company's trusted solar roof mount product line. Core RMS features a sturdy grid assembly that provides superior strength and load distribution for framed or laminate solar projects of 10 degrees or less. The system is both simple to install and durable enough to withstand high wind loads and extreme conditions.

"The idea of 'one mounting solution fits all' is a thing of the past," says SunLink CEO, Christopher Tilley. "As the U.S. solar market has expanded, a need has emerged for more specialized products that better accommodate the wide range of roofs on which customers are now looking to install solar. We engineered Core RMS as an ideal solution for projects with lower tilt angles where low cost is critical."
The product's signature design links both north-south rows and east-west panel sections to one another, dispersing loads across the total array and requiring less ballast in most instances. Rails and clamps streamline installation by auto-aligning and auto-spacing modules. The system also offers
+/-2.5 degrees of roof-following adjustability in both north-south and east-west directions.
Like all SunLink roof mount products, Core RMS is designed with roof-friendliness in mind, often requiring zero penetrations. Further, the Core system sits on rubber feet made from recycled tires. Each foot eliminates two tires from our landfills.
Core RMS is on display this week at Solar Power International in Dallas, TX. Visit SunLink's booth #3409 for a first-hand look.
About SunLink
Guided by an enduring commitment to R&D, SunLink is advancing universal solar power adoption by continuing to innovate highly engineered balance of system products that make solar easier, safer, more reliable and less expensive to install. Our industry-leading roof and ground mount systems, combiner boxes, and wire management tools have been proven on more than 200 MW of commercial projects at 1,000+ sites across North America. For more information, visit www.sunlink.com.
###
Featured Product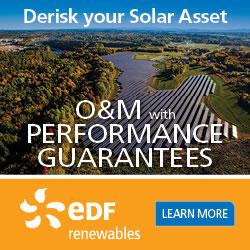 EDF Renewables offers the same innovative solutions that maximize the performance of our own 5.2 GW of installed projects. Because we're not an equipment manufacturer, our recommendations are transparent and data-driven. We cover the entire project lifecycle: from pre-commissioning support, through warranty and post warranty operation, to late stage and decommissioning.