After selling commercial fuel cell components for more than 15 years, Lynntech has spun-off their Commercial Fuel Cell Components (CFCC) division as FuelCellsEtc. FuelCellsEtc is now the exclusive manufacturer of Lynntech's CFCC division product lines.
October 18, 2011 – College Station, TX – FuelCellsEtc is has acquired Lynntech's Commercial Fuel Cell Components (CFCC) Division. The entire product line formerly produced under Lynntech CFCC will now be manufactured and sold wholly by FuelsCellsEtc.

FuelCellsEtc was originally part of one of the oldest and most recognized fuel cell R&D firms in the US, operating as Lynntech's Commercial Fuel Cell Components Division. As part of Lynntech, the CFCC division had been manufacturing and selling fuel cell components commercially for more than 15 years. In August 2011, the operating management of the division negotiated an exclusive license with Lynntech to transition the division into an independent company, now known as FuelCellsEtc. FuelCellsEtc continues to maintain a close working relationship with Lynntech.
Daniel Westerheim, Founder of FuelCellsEtc comments: "FuelCellsEtc is an organization specifically structured to service a broad range of customers. Lynntech is a prolific innovation company and we are excited to be able to merge the technologies and processes developed at Lynntech with the customer focus and customization required in the marketplace. Former, current, and future customers will see these results in terms of increased services, shortened lead times, and additional products."
FuelCellsEtc's current product line:
Membrane Electrode Assemblies (MEAs)
– the "cell" of an electrochemical cell
o Custom and Standard 5L and 3L (CCM)
o Used world-wide for a variety of applications including hydrogen fuel cells, hydrogen generators (electrolyzers), reversible fuel cells, and direct methanol fuel cells (DMFC)
o FuelCellsEtc MEAs have gained a reputation among customers as one of the highest performance and highest quality components available
Cell Voltage Monitoring Systems (CVM)
o Monitoring system suitable for Batteries or Fuel Cells
o Small, low power
o High Performance (high speed, high precision)
o Low overall cost – Included software & drivers
FuelCellsEtc is one of very few companies that are able to provide 100% customizability (size, shape, etc) without minimum order requirements. They are capable of producing unusual or irregular shapes and can also manufacture products utilizing customer supplied materials, as required.
For additional information contact FuelCellsEtc at:
press@FuelCellsEtc.com
www.FuelCellsEtc.com
Twitter: @FuelCellsEtc
Featured Product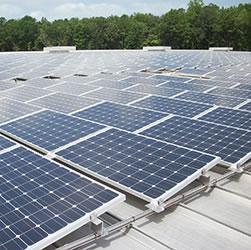 The Power Rail™ Commercial Mounting System is designed with the professional PV solar installer in mind. Both the XD/UD and LD/MD rails feature single tool assembly with the revolutionary patented RAD™ Lock-in-Place bolt for fast and secure module clamping. The high strength marine-grade aluminum rails include an integral wiring channel for securing cables and providing a professional finish.