With the new category AURORA Vision, Power-One helps its customers to maximize the return of investment of renewable energy projects through better understanding and communication between the user and the installation.
Power-One launches Aurora Vision - A Total Monitoring and Control Solution for Renewable Energy Systems

SOLAR POWER INTERNATIONAL, DALLAS, TEXAS– October 18, 2011 - Power-One, Inc. (Nasdaq:PWER), a leading provider of renewable energy and energy-efficient power conversion and power management solutions, today announced the introduction of the new category AURORA Vision, which offers monitoring and control products and services for renewable energy installations.
Following the 2011 acquisition of the personnel and technology of both Energy Recommerce and Act Solar, two leading providers of lifecycle management software for renewable energy assets, Power-One now offers a holistic portfolio of products, services and solutions, benefiting from both companies' expertise.
The new offering was designed to help operators maximize the return of investment of their projects through improved system management built on the better understanding and communication between the user and the installation.
"Our main objective is to meet our customer needs by providing a complete panel-to-grid system solution", said Paolo Casini, Vice President, Product Marketing at Power-One. "We are excited to present the new AURORA Vision services that provide greater system control and yield for our customers. The AURORA Vision products and services are designed to maximize uptime, increase the return on investment and thereby give operators the necessary peace of mind."
The AURORA Vision portfolio consists of the three key components: software, hardware and accessories.
Power-One's Aurora Vision software features a full range of functionalities to maximize system energy output while minimizing costs, including system fault management, diagnostics, asset tracking, performance index, and alerting services. It provides highly interactive and real-time access to key performance data and operations metrics giving plant managers the information needed to optimize operational decisions. The field-tested, scalable and secure architecture supports over 10 million plant operations transactions per day.
The hardware segment of AURORA Vision offers equipment designed to capture and transfer data and environmental information. A key product is the AURORA Universal System, a high-performance data management platform which is installed at the PV plant. The system is available for both residential and industrial installations and also offers revenue-grade metering and smart grid integration. AURORA Universal interoperates with Aurora Vision and multi-vendor balance-of-system equipment including inverters, string combiners, meters and environmental systems. Moreover, the system delivers accurate and reliable data in a high-frequency.
Aurora Environmental Advanced
Power-One's AURORA Vision newest accessories include AURORA Smart Combiners for 8, 12 and 16 strings; and AURORA Environmental Units which measure temperature, irradiance, wind speed and other environmental conditions.
"We are entering the next stage of growth in the solar PV market, which requires a new set of advanced operations and management solutions," said Chris Hughes, President of Clean Energy Constructors. "We have installed Power-One monitoring solutions on over 11MW of PV projects in 2011, and we continue to see this growth in 2012. Having leading-edge experience in managing diverse and complex renewable energy plants, we are pleased to continue our close working relationship with Power-One and its groundbreaking Aurora Vision Systems platform."
To learn more about Power-One's inverter products for the United States as well as its global portfolio, please visit http://www.power-one.com/renewable-energy.
About Power-One
Power-One is the world's second largest designer and manufacturer of photovoltaic inverters. Its renewable energy products enable the industry's highest yielding conversion of power from both solar arrays and wind farms for use by utilities and homes. Power-One has a 40 year history as the leader in high efficiency and high density power supply products for a variety of industries including renewable energy, data storage and networking, industrial and network power systems. The company is headquartered in Camarillo, CA and has global sales offices, manufacturing, and R&D operations in Asia, Europe, and the Americas. Power-One is traded on NASDAQ under the ticker symbol PWER. For more information about the Company, please visit www.P
Contacts:
For Press Inquiries please contact
Cate Powers, Edelman
Tel.: (323) 251-0387, Email: cate.powers@edelman.com
For Investor Relations please contact
Kevin Trosian, Vice President, Finance and Investor Relations
Tel.: +1 (805) 383 5888, Email: ower-One.com.Investor.Relations@Power-One.com
Featured Product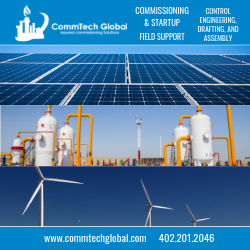 CommTech Global Solutions, LLC, provides professional and reliable commissioning services to customers in all realms of the energy industry. We blend our skills in engineering and technology with innovative business models, offering a complete range of services to assist you for a successful and in compliance operational startup. Consolidation of all our service domains gives our clients a comprehensive set of expertise and far-reaching experience on each project.