SHARP® SOLAR LAUNCHES SUNSNAP™ AC SOLUTION SYSTEM MAKING SOLAR MORE ACCESSIBLE TO HOMEOWNERS THAN EVER BEFORE Sharp Offers Scalable, Affordable PV Appliance Less Than $1000
PRESS RELEASE

SHARP® SOLAR LAUNCHES SUNSNAP™ AC SOLUTION SYSTEM MAKING SOLAR MORE ACCESSIBLE TO HOMEOWNERS THAN EVER BEFORE
Sharp Offers Scalable, Affordable PV Appliance Less Than $1000
CAMAS, Wash., October 18, 2011 -- Sharp Electronics Corporation's Solar Energy Solutions Group has introduced the SunSnap AC Solution, a new retail-friendly solar electric appliance designed to expand and simplify the mainstream adoption and use of solar energy for homeowners.
The SunSnap AC Solution is a home appliance that consists of black-on-black Sharp photovoltaic (PV) modules, making the roof installation more aesthetically pleasing, and is Enphase Energized™ with high-efficiency microinverters from Enphase Energy with a new mounting assembly from Zep Solar incorporated into the module.
SunSnap will help consumers and contractors more easily realize the value of home-generated solar by removing barriers to solar at home through a simplified product design and installation process. As a scalable PV appliance, SunSnap offers homeowners the ability to install a system that meets their budget, roof space and personal energy needs. A small, modestly priced "starter kit" featuring as few as one solar appliance can be initially installed and the system can then be expanded in the future as often as desired.
"Recent consumer surveys show an overwhelming interest in transitioning to solar energy, yet many are frustrated by the various barriers to participate in solar," said Eric Hafter, senior vice president, Sharp Solar Energy Solutions Group. "Now we are offering an easy, affordable solution for just about any consumer. By introducing SunSnap, Sharp is making solar energy more accessible to the average homeowner."
SunSnap AC Solution will first be available through distributers and dealers beginning early 2012.
Sharp expects to expand SunSnap sales to retail channels such as popular consumer electronics retailers, in 2012. The basic module will be available off the shelf, starting at less than $1000.
A single SunSnap appliance begins generating from the moment of installation so consumers can realize cost savings immediately to offset energy costs of other home appliances. SunSnap helps consumers work towards energy independence, offset their carbon footprint, lower electric bills and participate in a culture shift to solar energy use.
By converting direct current (DC) from the solar modules to grid-compliant alternating current (AC) at the module-level, the Enphase Microinverter System creates independent power producers out of each solar module in an array. With this, installers have complete design flexibility and are able to offer system owners expandable solar systems that can be easily added to year after year.
The mounting and grounding technology is inherently simple and streamlined, fitting seamlessly into the SunSnap solution. Incorporating the Zep Groove into the PV module, we have eliminated the need for bulky rails and separate grounding hardware found in conventional mounting schemes.
Please visit www.sharpusa.com/SolarElectricity.aspx for more information.
# # #
Sharp Electronics Corporation is the U.S. subsidiary of Japan's Sharp Corporation, a worldwide developer of one-of-a-kind home entertainment products, appliances, networked multifunctional office solutions, solar energy solutions, LED lighting and mobile communication and information tools. Leading brands include AQUOS® Quattron™ LCD televisions and 3DTVs, SharpVision® projectors, Insight® Microwave Drawer® ovens, Notevision® multimedia projectors and Plasmacluster® air purifiers. For more information visit Sharp Electronics Corporation at www.sharpusa.com. Find us on Facebook, follow us on Twitter and watch us on YouTube.
Sharp and all related trademarks are trademarks or registered trademarks of Sharp Corporation and/or its affiliated entities. All other trademarks are the property of their respective owners.
About Enphase Energy
Enphase Energy delivers microinverter technology for the solar industry that increases energy production, simplifies design and installation, improves system uptime and reliability, reduces fire safety risk and provides a platform for intelligent energy management. Our semiconductor-based microinverter system converts energy at the individual solar module level and brings a systems-based, high technology approach to solar energy generation. www.enphase.com.
About Zep Solar
Zep Solar, Inc. was founded in 2009 by PV industry veterans to advance the proliferation of solar energy through well designed PV mounting and grounding products that offer speed of installation, ease and low cost to a wide range of applications. With its Zep Groove™ PV module frame technology, a catalog of mounting and grounding hardware, and third party Zep Compatible™ products, Zep Solar offers the world's first comprehensive platform for PV system installation. Zep Solar's platform drastically reduces the cost and complexity of designing, shipping, warehousing and installing PV systems. Please visit www.zepsolar.com for more information about our company and products. You can also follow us on Twitter @ZepSolar.
CONTACT:
Kevin Oates Ellin Everson
Ketchum Sharp Electronics Corporation
Phone: 310-295-3320 Phone: 201-529-8630
E-mail: kevin.oates@ketchum.com E-mail: ellin.everson@sharpusa.com
Featured Product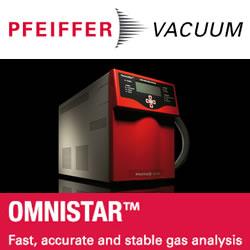 The Pfeiffer Vacuum OmniStar benchtop analysis system offers you a compact footprint, powerful software and Ethernet connectivity. It's the optimum solution for many real-time gas analysis applications. With the OmniStar, Pfeiffer Vacuum offers you a complete solution for gas analysis, in chemical processes, semiconductor industry, metallurgy, fermentation, catalysis, laser technology and environmental analysis. The turnkey OmniStar gas analysis system consists of heated, temperature-regulated gas inlet system, Quadrupole mass spectrometer, a dry diaphragm vacuum pump and HiPace turbopump. Unlike competing methods such as FTIR, OmniStar is suitable for qualitative and quantitative analysis of most gases.