In Senftenberg, in the South of Brandenburg, one of Germany's biggest solar parks is currently being built over an area of 204 acres. The project was conceived by PV installation experts Saferay and will deliver more than 78 Megawatts of DC capacity.
In Senftenberg, in the South of Brandenburg, one of Germany's biggest solar parks is currently being built over an area of 204 acres. The project was conceived by PV installation experts Saferay and will deliver more than 78 Megawatts of DC capacity. Schneider Electric is providing the technology for the conversion of the solar energy. The solar park was connected to the grid at the end of August after just three months of construction. The official opening was conducted on the 24th of September by leading German politician and MP for Brandenberg, Matthias Platzec.

The PV Box as a complete solution
For the shortest possible construction time, Saferay relies on the PV Box from Schneider Electric. A total of 62 PV Boxes and 109 Xantrex GT630E grid tie inverters are being deployed. This electric arc–safe concrete station integrates all the necessary components to connect solar arrays to a medium voltage network. It comprises a combiner box, an inverter, a medium voltage transformer and switchgear, so the complete solution can be rapidly implemented. The PV Box is also highly efficient. The optional Master/Slave Mode makes it possible to dispense with inverter operation, thereby reducing losses particularly under partial loads. The PV Box also delivers data relevant to management: as solar parks do not deliver electricity day and night, it is important to know how much energy is available at a given time, so that gaps in supply can be balanced out. The target values issued by the utility company to regulate maximum feed rate and blind power control are sent to the individual inverters via the central monitoring system, and continually compared with the actual values.
Successful partnership
Thanks to the long term partnership between Saferay and Schneider Electric, and the deployment of standardized assembly sections, it was possible to complete construction in just three months. For a project of this size, this is an unusual accomplishment, as Ingo Ernst, Sales Director for Solutions at Schneider Electric, explains: "Since the PV Box is a complete solution, the time-to-service of solar parks can be reduced. The panels can be connected to the grid sooner and pay for themselves earlier. The PV Box brings together Schneider Electric's complete know-how, from electricity generation to energy management, and delivers real benefits to our partners."
Dr. Marko Schulz, Saferay's Managing Director, continues: "Thanks to our long-term cooperation, we are well attuned to each other. The people at Schneider Electric knew immediately just which components - and just what dimensioning - this project called for. That was also a significant factor in the rapid execution of this project."
Several years of project experience
Saferay has been a valued partner of Schneider Electric since 2010. Senftenberg is the third solar park that Saferay will operate in Germany. For Schneider Electric, Senftenberg is not the first project of this scale. For example, in 2009, the company provided the technology for one of the largest solar parks in Germany, a 54 MW facility in the lower Bavarian commune of Strasskirchen.
Schneider Electric
As a global specialist in energy management with operations in more than 100 countries, Schneider Electric offers integrated solutions across multiple market segments, including leadership positions in energy and infrastructure, industrial processes, building automation, and data centres/networks, as well as a broad presence in residential applications. Focused on making energy safe, reliable, and efficient, the company's 110,000 plus employees achieved sales of 19.6 billion euros in 2010, through an active commitment to help individuals and organizations "Make the most of their energy."
Schneider Electric GmbH, based in Ratingen, employs 620 people in Germany, who work closely with clients to provide a comprehensive sales and service network for electrotechnology. More than 400 wholesale centres assure local, personal advice and product availability at short notice. The company offers training courses on its products, systems and applications at its central training centre.
Featured Product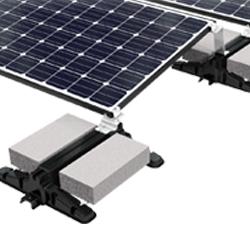 Preformed Line Products introduces the POWER MAX Ballasted Roof Mounting System. The POWER MAX solar mounting system is engineered to maximize energy output on commercial flat roofs. Developed with the professional installer in mind, this system offers adjustable inter-row spacing in the field of up to 11 inches. It features 50% fewer components and a simplified design resulting in faster assembly rates and labor savings on every project. Available in a flush mount, 5˚ or 10˚ tilt or higher density dual tilt design, the POWER MAX base arrives stacked on pallets providing easier transport to the roof. Engineered as a fully ballasted, non-penetrating system, it accepts standard concrete blocks and is qualified by wind tunnel testing.