Sustainable energy projects have reduced the CO2 emissions in Bulgaria by more than 800 000 tons
Sustainable energy projects have reduced the CO2 emissions in Bulgaria by more than 800 000 tons

A total of 243 projects for energy efficiency in the industry and for renewable energy implementation (amounting to 130 million euros) have been made with European Bank for Reconstruction and Development funding since 2004. This is more than 10% of the electricity produced by the Kozloduy Nuclear Power Plant.
The successful energy efficiency projects are 117 and include the placement of insulation, replacement of windows, purchase of equipment with low energy consumption, etc. Over the past seven years also 126 RES projects have been implemented in Bulgaria: over 50 wind farms, over 45 small hydro energy plants, 12 cogeneration plants, biomass installations, etc.
For more information on the latest developments and perspectives in this part of Europe, join the South-East European Forum which incorporates the 8th Congress and Exhibition on Energy Efficiency & Renewable Energy and Solar Exhibition (28-30 March 2012, Sofia, Bulgaria). The event's aim is to speed up business cooperation and know-how transfer in the Region of South-East Europe. High-level speakers from over 20 countries will share their experience and knowledge. Leading companies will present at the exhibitions cutting edge green energy products and technologies. Over 300 attendees and 7000 professional visitors from South-East Europe are expected to get involved.
For more info: Via Expo – www.eeandres.viaexpo.com
Featured Product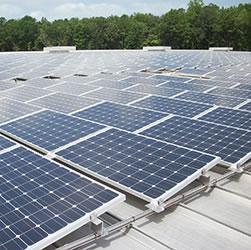 The Power Rail™ Commercial Mounting System is designed with the professional PV solar installer in mind. Both the XD/UD and LD/MD rails feature single tool assembly with the revolutionary patented RAD™ Lock-in-Place bolt for fast and secure module clamping. The high strength marine-grade aluminum rails include an integral wiring channel for securing cables and providing a professional finish.