NANJING, China, October 27, 2011 -- ET Solar Group Corp. ("ET Solar"), a China-based vertically integrated producer and provider of Photovaltaic ("PV") modules and related solutions to the global solar market, today announces introduction of anti-reflective modules globally.
ET's anti-reflective modules offer higher electricity production, more stable performance and lower unit cost than conventional glass based modules. The dense coating on the surface of the anti-reflective modules effectively delivers higher light absorption and slows the power degradation, which compare favorably to conventional modules that use ordinary glass.

The anti-reflective modules are offered under ET Solar 25-year linear power performance warranty, along with a 10-year workmanship warranty and global technical support.
Featured Product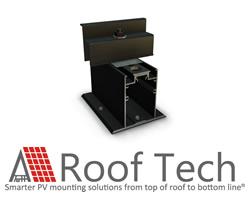 The most compact versatile rail-less PV mounting system under the sun. Instead of placing solar panels on top of long rails, simply attach E Mount AIR to rafters or the roof decking. Once panels are fastened to the roof, the system array is electrically bonded. The result is a visually seamless PV installation that stands the test of time. - Truly "One With The Roof". - PE stamped cert. letters available, UL 2703 Classified, ASTM 2140 fully waterproof. The one and only with integrated flexible flashing certified by the ICC! All the best quality. Only from Roof Tech