4.2 MWp power plant in Bessan marks entry of Solar Frontier into French project market
Kolitzheim and Munich, October 27, 2011 – Today Solar Frontier and BELECTRIC announced that they have completed a 4.2 MWp solar power plant in Bessan, France, further strengthening their joint collaboration. The project is the first in France to use Solar Frontier's thin-film CIS modules and marks Solar Frontier's entry into the French solar project market.

BELECTRIC installed 29,931 thin-film CIS modules at the site with an expected output of 4.2 MWp. The whole process from planning through construction to grid connection took only six weeks. This was the latest in a series of recent joint projects between BELECTRIC and Solar Frontier.
"Our plan was based on a reliable installation concept used for several German projects in the past, each with excellent results," said Jochen Meyer, General Manager, BELECTRIC France. "By lowering the inclination of the solar power plant's modules, we were able to lower the profile of the power plant itself leading to better integration in the surrounding landscape. Solar Frontier was the right choice for us because their modules perform extremely well even under these conditions."
The all-black modules were installed at an incline of 15 degrees – lower than the more usual 25 degrees. The design and performance advantages of Solar Frontier's modules ensure continued high output even at this lower tilt angle. By combining this installation concept with environmentally-friendly CIS modules that have higher output in real conditions, BELECTRIC and Solar Frontier deliver superior performance with lower impact on the environment.
"This is our first project with BELECTRIC in France, and it certainly won't be our last," said Wolfgang Lange, Managing Director, Solar Frontier Europe. "It is very satisfying to be able to connect such a high-efficiency solar power plant to the grid. Solar Frontier's CIS modules offer a winning combination of performance and cost, which will benefit the French market."
The Bessan power plant uses Solar Frontier's 140W modules, which are not only highly efficient and ecological, but also fit well into the landscape with their all-black finish. The modules are produced at Solar Frontier's new gigawatt-scale Kunitomi plant in Miyazaki, Japan, the world's largest CIS manufacturing facility.
About BELECTRIC®
BELECTRIC is the global market leader in the development and construction of ground-mounted solar power plants and photovoltaic rooftop installations (EPC). At BELECTRIC, engineers and project developers conduct interdisciplinary research in all areas of solar technology and develop innovative technology that forms a basis for the environmentally friendly energy supply of the future. With more than 25 patents granted every year, BELECTRIC is continuously proving its innovative spirit. BELECTRIC handles all aspects of the realization process - from the planning stage, through construction, and to the operation of photovoltaic systems. This ensures highly efficient decades-long performance. Alongside solar power generation, the subsidiary BELECTRIC Drive® concentrates on the combination of photovoltaics and electric vehicle systems. More information at www.belectric.com.
About Solar Frontier
Solar Frontier, a 100% subsidiary of Showa Shell Sekiyu K.K., established the world's first gigawatt-scale CIS module factory in 2011 with a mission to create the most economical, ecological solar energy solutions in the world, on the world's largest scale. Solar Frontier's proprietary CIS technology, denoting key ingredients copper, indium, and selenium (in addition to gallium and sulfur), has the best overall potential to set the world's most enduring standard for solar energy. This is based on our legacy of work in solar technology since the 1970s, the priority focus our laboratories have given to CIS since 1993, and our success in large scale CIS commercialization since 2007. The critical factors that combine to make CIS the overall economical and ecological leader include high efficiency modules and production processes as well as superior reliability, stability, sustainability, non-toxicity, and lower overall energy consumption in manufacturing to yield a faster energy payback time. These factors at gigawatt scale enable Solar Frontier to meet worldwide demand for the new standard in affordable solar panel performance. Visit www.solar-frontier.com for more information.
Showa Shell Sekiyu K.K. is listed on the Tokyo Stock Exchange and has roots dating back more than 100 years in the downstream energy business.
Featured Product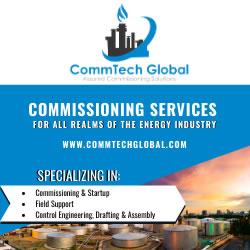 CommTech Global Solutions, LLC, provides professional and reliable commissioning services to customers in all realms of the energy industry. We blend our skills in engineering and technology with innovative business models, offering a complete range of services to assist you for a successful and in compliance operational startup. Consolidation of all our service domains gives our clients a comprehensive set of expertise and far-reaching experience on each project.