As LG Solar's U.S. division crosses the one-year mark, the company is further bolstering its commitment in the U.S. marketplace by unveiling its next-generation high-efficiency modules under the "Something Ready" marketing campaign.
DALLAS, Oct. 18, 2011 — LG Electronics is showcasing its latest solar energy solutions – led by its new, high-efficiency solar modules and cell technology – at the largest business-to-business solar conference in the western hemisphere, Solar Power International 2011 (SPI; booth 2627).

According to the U.S. Solar Market Insight: 2nd Quarter 2011 report by Solar Energy Industries Association®, the U.S. solar market has seen dynamic growth through 2011, however, hurdles remain for 2012. While increased competition has resulted in lower prices for consumers, many solar panel manufacturers have found themselves in financial distress, even bankruptcy. On the other hand, global technology leaders such as LG Electronics have the financial strength and staying power that customers can depend on for years to come, according to James Lee, senior vice president, LG Electronics USA.
As LG Solar's U.S. division crosses the one-year mark at SPI 2011, the company is further bolstering its commitment in the U.S. marketplace by unveiling its next-generation high- efficiency modules under the "Something Ready" marketing campaign. LG's new high- efficiency modules lead the industry in conventional-style solar panels with a 260 Watt output and 60-cell panel design results in a first-class, energy-efficient solar solution.
"The U.S. is one of the fastest growing solar markets in the world and LG Solar is keeping pace with this lively marketplace," said Lee. "LG's high-efficiency modules and market-ready business strategy come at just the right time to meet market demand for solar power with high-quality and sustainable products that consumers and businesses alike have come to expect from a global technology leader."
Increased Energy Efficiency
The LG Mono X™ and LG Multi X™ on display this week at SPI are 8.3 percent and 4.3 percent more efficient, respectively, than conventional models. While the industry standard for solar modules are 240-245W. LG's new high-efficiency X modules are capable of producing 260W from a 60 cell panel. This results in 4.3W per cell, a significant energy efficiency enhancement when compared to the 3.75W per cell produced by 270W/72-cell models.
The Mono X boasts the highest energy efficiency among all LG modules in its class. Conventional monocrystalline products use 240W modules, while LG's advanced Mono X units operate at 260W. This energy efficiency increase is based on three innovative LG technologies. First, LG's selective emitter technology improves the solar cell efficiency and simplifies the manufacturing process. Second, fine line electrodes have been created via significant improvements in the screen printing process, leading to a 40 percent reduction of the front electrode width. The resulting broader light absorption area generates a greater amount of power. Finally, LG's own "surface passivation" technology reduces the electrical loss at the solar cell surface.
The Multi X, LG's powerful new photovoltaic module, delivers 240W of power but with the same levels of energy efficiency as conventional monocrystalline module products. With LG's advanced surface treatment technology absorbing more sunlight, the power output of the photo-conversion function is much greater than conventional multicrystalline solar cells. In addition, the night-blue cell color and piano-black frame also adds a stylish finish to the Multi X's overall elegant design.
An added benefit of both new modules is LG's unique smaller footprint. While conventional modules may grow to 72 cells and require specialized racking systems, LG's 60-cell high- efficiency modules can be easily housed on a less expensive, standard-size mount. This results in a return on usable space and cost-savings for building owners. LG's high- efficiency Mono X and Multi X modules will be available in the United States in the fourth quarter.
"We focus on innovative ways to serve our customers and drive energy-efficient solutions," said Bryan Martin, vice president, Ameresco Solar. "LG's PV modules are attractive to building owners because of their smaller footprint and the associated cost-savings, and we're able to offer solar customers value with a payback they feel good about."
Industry-leading Certifications
With an industry leading 25-year guarantee and LG's commitment to providing comprehensive customer care service, the Mono X and Multi X are both set to build on the strength of the LG brand across the board. Both products were developed through LG's solar module test lab, which received full certification from both Underwriters Laboratory and the TÜV, a first in the solar industry. The test lab allowed LG to utilize its own unique cell technology to ensure product quality and durability. The new solar modules are now rated to withstand frontal and rear pressure of 5,400 Pascal, as well as extreme climate conditions. LG solar panels also were the first in the industry to earn the coveted CarbonFree® Certification label from the Carbon Free Foundation in July 2011.
For more information on LG's Solar Division please visit: http://www.lgsolarusa.com.
Featured Product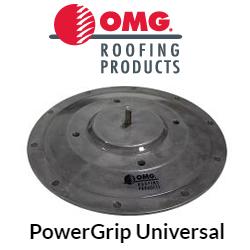 Eliminate Solar Rack Ballast and Reduce Rooftop Material Handling. PowerGrip™ Universal (PGU) is a commercial roof mount system designed to secure solar racks and other equipment to any type of commercial roofing system. PGU provides a secure connection directly to the roof deck or structural members and is designed to reduce or eliminate ballast in solar racking systems, so there's less weight on the roof and less material handling. Made of heavy-duty cast aluminum, PGU units include a base ring which is secured through the roofing cover and into the structural roof deck, and a waterproof top plate.