Industry will reconvene in Reno in 2012
San Diego, CA (Oct. 31, 2011) – More than 2,500 attendees from 33 different states and 13 different countries came together in San Diego last week for the GEA Geothermal Energy Expo, the largest gathering of geothermal energy leaders in the world. The sold out Expo Hall featured 160 exhibitors. Leading companies including Ormat, NALCO, Siemens, Geothermal Resource Group, POWER Engineers, Íslandsbanki, Pratt & Whitney Power Systems, Mitsubishi Power Systems and TNG Energy Services were in attendance. The event provided a unique opportunity for exhibitors to showcase their projects, equipment, services and state of the art technology to the geothermal community.

The United States is the world leader in geothermal generation, with approximately 3,100 MW online. And a new map from Southern Methodist University's Geothermal Lab, created with help from a grant from Google's philanthropic arm Google.org, estimates the U.S. could potentially generate nearly three million megawatts using the Earth's heat, or about ten times the installed capacity of coal power. Since 2005, geothermal power projects have expanded from 4 states into 15 states from the Pacific to the Gulf Coast. While the number of states with geothermal installed capacity and projects in development is significant, the reach of the geothermal industry is even more extensive. A total of 43 states have companies involved in geothermal development operations. With the growth of the geothermal industry, the Expo has been rapidly expanding, with the number of exhibitors more than doubling since 2008.
"In California, geothermal is already providing over 40% of the renewable energy mix and we're barely scratching the surface. The industry has the potential to be a jobs creator while lessening America's dependence on fossil fuels. But just like any fledgling sector, we need long term stable policy to continue this growth," said GEA Executive Director Karl Gawell.
Expo attendees expressed energy and optimism even despite the current challenges faced by the industry. The extension of the renewable energy production tax credit (PTC) to geothermal energy in the Energy Policy Act of 2005 has been a principal factor in the growth of the industry. But, many geothermal projects will not be completed by the current tax credit expiration deadline at the end of 2013, which could undermine future industry growth.
"We have about 700 megawatts of projects in the near-term pipeline, but projects coming on-line after 2013 needs signals now about what to expect from federal and state policies. With geothermal projects taking three to five years to get through the permitting and into construction, the two most important actions that would spur sustained geothermal development are extending the federal tax incentives to 2016 and finding ways to cut project time-lines in half," Gawell said.
In addition to its large potential capacity, geothermal energy offers advantages over other forms of energy. It is ideally suited to provide baseload (24/7) power that intermittent renewable resources cannot provide. Additionally, when compared to other forms of baseload thermal generation, geothermal offers major advantages in fuel price stability, since it does not require a fuel supply, significantly reduces air emissions, and has a smaller footprint per installed MW.
The 2012 Expo will be held in Reno from Sept. 30-Oct. 2, 2012. For more information about exhibitor and sponsorship opportunities, please contact Kathy Kent at (202) 454-5263 or kathy@geo-energy.org.
To schedule an interview with a GEA representative, please contact Adam Daley, 646 695 7043 or adam@rosengrouppr.com.
About the Geothermal Energy Association:
The Geothermal Energy Association (GEA) is a trade association composed of U.S. companies who support the expanded use of geothermal energy and are developing geothermal resources worldwide for electrical power generation and direct-heat uses. GEA advocates for public policies that will promote the development and utilization of geothermal resources, provides a forum for the industry to discuss issues and problems, encourages research and development to improve geothermal technologies, presents industry views to governmental organizations, provides assistance for the export of geothermal goods and services, compiles statistical data about the geothermal industry, and conducts education and outreach projects. For more information, please visit http://www.geo-energy.org/. Follow GEA on Twitter. Become a fan on Facebook.
Featured Product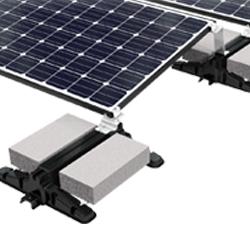 Preformed Line Products introduces the POWER MAX Ballasted Roof Mounting System. The POWER MAX solar mounting system is engineered to maximize energy output on commercial flat roofs. Developed with the professional installer in mind, this system offers adjustable inter-row spacing in the field of up to 11 inches. It features 50% fewer components and a simplified design resulting in faster assembly rates and labor savings on every project. Available in a flush mount, 5Ëš or 10Ëš tilt or higher density dual tilt design, the POWER MAX base arrives stacked on pallets providing easier transport to the roof. Engineered as a fully ballasted, non-penetrating system, it accepts standard concrete blocks and is qualified by wind tunnel testing.