Offshore wind continues to boom. Since 2003, more than 500 o¬ffshore wind turbines have been installed – 35 per cent of them in 2010 alone.
London Dedicated offshore power sites appear each month across the UK, France, Germany and many other European countries. This rate of growth, set to continue next year, forces the entire supply chain to re-think its strategy.

From survey specialists, burial and installation experts through to foundation fabrication, wind turbine construction and commissioning, the need to re-think how to handle a significant uplift in demand is evident. Why build a 2 MW power plant when you can put a 5 MW one on the same foundations? Why work in harsh conditions offshore on a 50 turbine array, when you can build a 100 turbine one?
The supply chain must facilitate growth through cost effective service that utilises economies of scale. A recent report released by Wind Energy Update identifies the key drivers in supply chain strategies of wind turbine OEMs. Perhaps the most significant finding is the need for larger component parts throughout the turbine; blades that are a minimum of 80 meters; bearings that are produced at a scale and quantity not before seen; and generators that employ direct drive technology as standard.
This increase in scale, together with the increase in production volume and the technical innovation in major CAPEX parts of an offshore wind project, reduces the margins for error. The European Wind Energy Association (EWEA) calculated that the global banking market invested over £2.6 billion this year in offshore wind. But for how long will that support continue without a robust supply chain?
To create stability and drive down costs, offshore wind farm procurement managers are keen to meet with key personnel along the supply chain and hammer out strategies to handle larger orders. A long term plan is vital to address not only the high volumes needed but to remain commercial in these tough economic times.
Key focus areas include procurement strategies of the developers; identification of established cost reduction techniques and technologies; and how to approach investment in the backdrop of economic uncertainty
Raul Manzanas, the director of offshore technical development at Acciona recently cited the development of infrastructure in offshore wind as a key area for quick wins.
Manzanas is part of an exclusive speaker faculty at the industry leading offshore wind supply chain conference held February 2012, in London. Manzanas is set to present findings on infrastructure development, before addressing the industry more broadly with associates from RWE Innogy, Eneco, RES Offshore, Siemens Wind Power, Vestas Offshore and many more.
For further information on the second year of this critically acclaimed industry pioneering event check out the conference website http://www.windenergyupdate.com/offshore-supply-chain/?utm_source=PressRelease%2BREW%2B0711&utm_medium=PressRelease%2B0711&utm_campaign=2075
Featured Product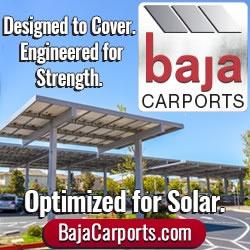 Baja Carports specializes in design-build Solar Support Systems™ for mainframe carports & shade canopies. Our patented product line is designed in-house by Baja engineers. Product structures are pre-fabricated from pre-galvanized high-tensile, light gauge steel, and installed by Baja crews. Carports, RV/boat storage, EV stations, & ground mounts are customized to meet customers criteria. Baja's objective for each Solar Support System™ is to leverage optimal electrical production while maximizing coverage. Baja produces cost-effective carports for commercial businesses.